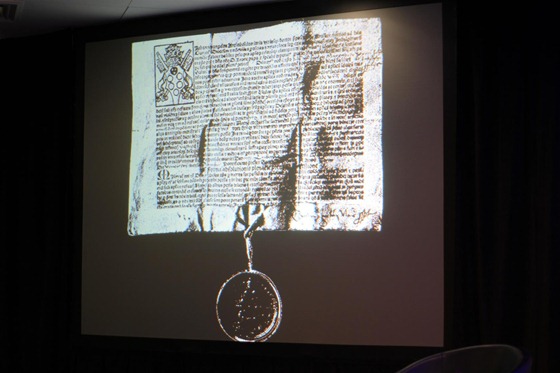 "What virtual good earned $75 billion in revenue? Michael Kalkowski, co-founder of GameDuell humorously opened with this question and went on to list the 10 essential features that improve monetization in social games.
So what virtual good was it? Michael revealed that it was letters of indulgence, which 15th century Dominican friar sold these to sinners. These goods were based on fear, and Michael explained that it was emotional triggering that caused people to get up and purchase these goods that gave them peace of mind. Certainly, the religious connection made for an easier sales pitch." — From socialtimes.com
Michaels presentation in London in November 2010 was a great success. He received great online media coverage. And – he made a lasting impact.
You too can make a lasting impression with your presentations.
In an energetic and inspiring one-to-one session we will co-create your executive presentation. You will stand out with mesmerizing content and memorable delivery. No longer your slides will replace what you say, but support your message and make a real impact. Above all, you will stop informing people about something and start moving them to action.
Motives
Board presentations
Event presentations
Annual Meetings
Other important executive presentations
Focus 
Move to action
Message
Less is more
Presentation structure
Creative opening and closing
Audience interaction
Sympathy and empathy
Process
Briefing by client (audience, objectives, key messages, content)
Creative brainstorming
Presentation structuring
Detailed flow and content
Slide design and production
Rehearsal
Positive and constructive feedback
IMPORTANT: Process works both online/by phone and face-to-face
Duration
Languages offered
.
Mar Serrán, Strategy & Insights Marketing Manager, Danone Groupe:

"I hired Florian to prepare an important strategic presentation I had to give to the Top Management Team of my company. Without a doubt this presentation is the best I have ever done. I did a lot of training sessions before, yet, the experience with Florian was the best I ever had. His enthusiasm and inspiration are priceless and contagious and I am sure we will work together in the future. I also strongly recommend to read Florian's book 'The Seven Minute Star'. It is full of practical tips and ideas that will help you improve your communication skills significantly."