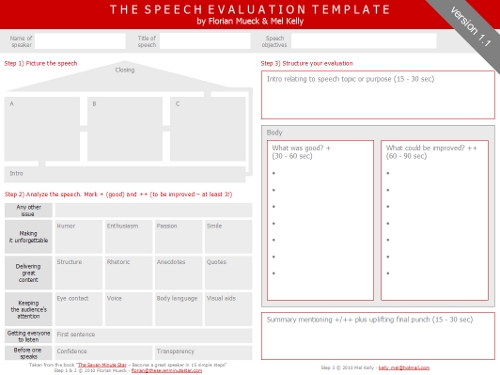 The big news first: We have created a highly effective speech evaluation template! Those familiar with this nomenclature will know that this post is dedicated to all our fellow Toastmasters around the globe.
How Did It Happen?
Mel Kelly is a three-time District Champion of the evaluation contest (District 59 – Continental Europe). Mel is also great on the interpersonal level. Maybe it's because he is a passionate preacher. Maybe it's because he is Irish. Fact is, Mel always wants to help others to improve. This is also the reason why he decided to spontaneously join our Iberian Division Conference in Oporto, Portugal, as a keynote speaker on April 24 2010.
And how could it be any different – he spoke about the art of evaluating.
Now – we don't want to unleash all of Mel's valuable secrets. Otherwise he would sabotage the book he is planning to work on. But we do want to share with you a highly effective onepager for better evaluations.
The result is a combination of Mel Kelly's approach to evaluating and concepts taken from The Seven Minute Star.
A Three-Step Approach
The template consists of three simple steps:
Step 1 – Picture the speech
The Speech Structure Building (The Seven Minute Star, page 58) serves well to follow your fellow Toastmaster's speech. You can scribble down headwords in the different sections – Intro, A, B, C, Closing. By doing so you right away discover if the speech has a good structure. You can easily spot transitions, highlight rhetorical highlights, and memorize anything else you might want to mention later on.
Step 2 – Analyze the speech
The 15 steps to becoming a great speaker are your one-stop shopping list for analyzing the speech quality. You can easily spot the good points (by marking +) like the use of quotes or a passionate performance. But you can also detect the potentials for improvement (by marking ++). The great advantage lies in the full transparency of skills used or not (yet) used by the speaker.
Step 3 – Structure your evaluation
Once you have analyzed the speech you can transfer the good points and the potentials for improvement directly into the body of your evaluation (on the right side of the template). Make sure you start in both lists with the least significant point and end with the most important issue. Now you just have to add an intro that relates to the speech purpose or content and a summary which mentions all the + and ++. Don't forget the "final punch" – an uplifting message at the end.
Ready – set – go! Let's evaluate!
If you have any further questions, please send us an email to contact@thesevenminutestar.com. We will get back to you asap!
You can download The Speech Evaluation Template by clicking on the image above. Have fun!