florian
WELCOME TO MY CHARISMA BOOSTING WORLD
So many training participants have told me the coolest thing ever: "Florian, you are the Jim Carrey of public speaking coaches." I love it! But public speaking is only part of my work. Your benefit is the transformation you experience. Public speaking is the vehicle, but transformation–more self-confidence; more emotion; more vulnerability, more authenticity, more charisma–is the destination. In the end, you grow in a way you never imagined. Just like Jim did all his life.
HAVE YOU CONSIDERED LARGE GROUP COACHING SESSIONS?
Together with amazing growth experts like Conor Neill, Olivia Schofield, John Zimmer or Tobias Rodrigues, I can co-create with you course formats for up to 150 participants you couldn't buy anywhere. Only one challenge: our agendas. This requires time. Let's have a chat!
FROM COWS TO BUFFALOES
From 8-12 April 2019, Conor Neill, John Zimmer, Tobias Rodrigues, Tony Anagor, and I, once again, had the enormous pleasure and honor to work with 116 Executive MBAs at the top business school IESE in Barcelona. In the big room and in the small rooms we witnessed them face their fears and grow beyond their expectations. The cows turned into buffaloes.
ONLY 3 SEATS LEFT: JOIN THE NEXT CHARISMA BOOSTER NOW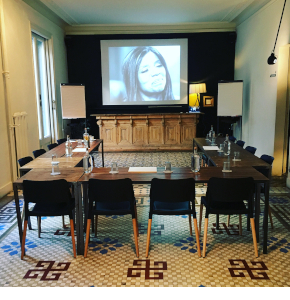 On 6-7 June 2019, you will have one of the few chances to attend one of my open public speaking trainings in Barcelona. The training is limited to eight participants max and will be held in English language. More info.