florian
WELCOME TO MY CHARISMA BOOSTING WORLD
So many training participants have told me the coolest thing ever: "Florian, you are the Jim Carrey of public speaking coaches." I love it! But public speaking is only part of my work. Your benefit is the transformation you experience. Public speaking is the vehicle, but transformation–more self-confidence; more emotion; more vulnerability, more authenticity, more charisma–is the destination. In the end, you grow in a way you never imagined. Just like Jim did all his life.
MARVEL AT THE MAGIC OF LARGE GROUP LEADERSHIP COACHING
Together with amazing growth experts like Conor Neill, Olivia Schofield, John Zimmer or Tobias Rodrigues, I can co-create with you course formats you couldn't buy anywhere else – probably. For up to 150 participants! Only one challenge: our agendas. This requires time. The following annual event is a good example. One of my absolute highlights every year.
FROM COWS TO BUFFALOES
From 8-12 April 2019, Conor Neill, John Zimmer, Tobias Rodrigues, Tony Anagor, and I, once again, had the enormous pleasure and honor to work with 116 Executive MBAs at the top business school IESE in Barcelona. In the big room and in the small rooms we witnessed them face their fears and grow beyond their expectations. The cows turned into buffaloes.
THAT BALL WENT IN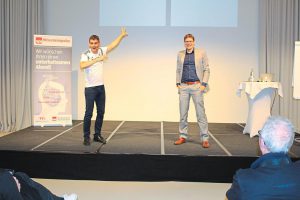 On 6 May 2019, I performed the 90-minute version of my keynote speech "Der Ball muss rein" (The ball must go in), in the picturesque town of Muenster in Germany. Approx. 200 people attended this public event organized by Sprecherhaus and Westfaelische Nachrichten. Here you can read the article in German.
YOU AND FOUR TOP TRAINERS
Join the 8th edition of the incomparable Spectacular Speaking series. Embark on an unforgettable journey that will transform your communication skills. Two days of intense training with four of the best trainers in the business. Breakout sessions offer multiple opportunities to deliver, get positive and constructive feedback, and redeliver.
HERO'S JOURNEY ROUND NUMBER THREE
On 30-31 May, in cooperation with my fellow growth monsters, Conor Neill, Tobias Rodrigues, and Nando from alwayspeoplefirst.es, we will impart the third and last round of leadership training for an amazing client. Who? One of the world's leading discounters. Again, 60 leaders will embark on a not so joyful journey of growth. But since when has there been growth without suffering? The hero is always the outcome, never the beginning.
THE NEXT CHARISMA BOOSTER IS SOLD OUT – ALMOST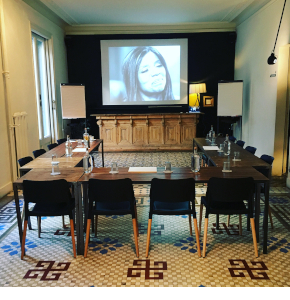 On 6-7 June 2019, you will have one of the few chances to attend one of my open public speaking trainings in Barcelona. The training is limited to eight participants max and will be held in English language. Right now, six brave warriors of change have signed up. It's getting tight. More info.