According to Wikipedia a self-fulfilling prophecy is a prediction that directly or indirectly causes itself to become true, by the very terms of the prophecy itself, due to positive feedback between belief and behavior. I guess in my seminars I've been witnessing such a prophecy for quite a while now…
It all began in September last year. I came up with a group exercise where two teams have to compete against each other. The objective is to convince Steve Jobs to grant them funding for the development of a prototype called: iHolo.
The iHolo is a device based on the iPhone which features a super innovative holographic function: the projection of objects and people in three dimensions.
To date, participants have come up with great benefits of this product like
to be there when you cannot be there (birth of your child, birthday party, the final moments of a loved one, …),
perform product presentations (Imagine Steve presenting his new product while 1,000 media representatives from all over the world can almost touch it!),
make technical support easier,
and, of course, caress the people you love most closer than ever before.
Now – the weird thing is that everyone says, "This will happen one day!" I don't know how close we are to this, but it would definitely be a logical step, wouldn't it?
Nelson Mandela says that, "It always seems impossible until it's done." In the past Steve obs and Apple took the words of the great South-African leader seriously. Maybe we are facing a self-fulfilling prophecy here. Who knows…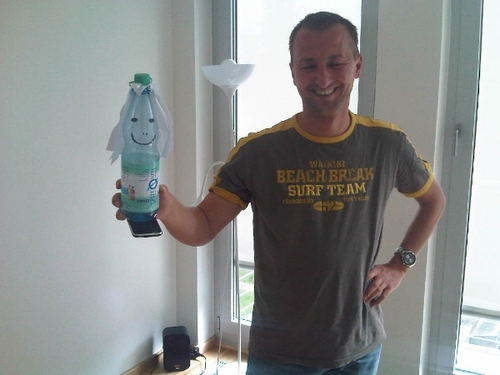 Above: a seminar participant presenting the "iHolo".