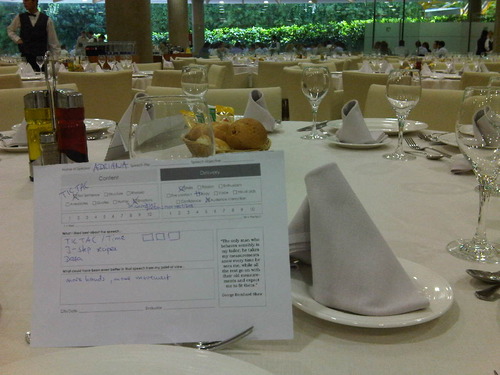 This last week was without doubt and by far one of the best experiences in my professional life. On Friday I even felt sad that the week was over…
It's Conor's fault. My friend and collaborator Professor Conor Neill of IESE Business School had successfully "sold" his concept of intensive coaching in managerial communication and persuasive public speaking to the Board of the Executive MBA program.
Moving the concept to action was a logistical super challenge: 160 people from the Madrid program, 13 subgroups, 5 coaches, 5 technicians, 5 fully equipped rooms, 4 practical and 3 theoretical sessions for each EMBA.
IESE's capacity impressed me. Each program participant received a personalized agenda including the other two educational pillars that week, family businesses and commercial law.
Altogether I gave and moderated 93 evaluations. What a learning experience for them, what a learning experience for me – with laughter in abundance.
Wondering if he would make it into the video frame and fueled with self-mockery Pablo exclaimed, "Well, you know… I'm a bit small!"
Sitting down after just 1m 51s Oscar acknowledged, "A bit short!"
And Sandra took the cake by mentioning with passion that she was "la mejor de la calle" – the best in the street.
From my point of view this practical approach of making everyone speak twice and including everyone in the constructive evaluation process worked perfectly well. A catchy first sentence, radar-style eye contact, structure, visual aids, body language… The guys improved so much in just a couple of days, it was breathtaking.
Now – all that is left to say is 'Thank you' to IESE, especially to Nacho Cantarero and Conor Neill. I definitely look forward to future intensive coaching weeks to add more best experiences to my professional life.