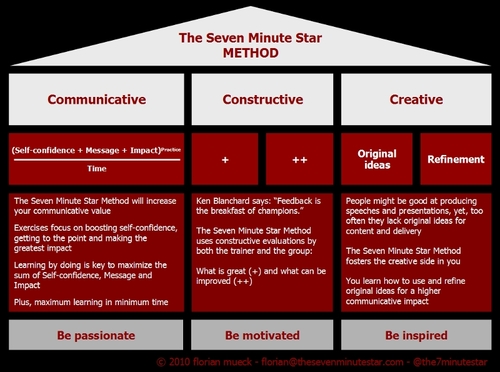 The luxury of creating your own training format is that you can decide what to teach and how to teach it. No video, no hand-outs, no theory*… But passionate,motivated and inspired communicators. This is the overall goal of The Seven Minute Star Method.
This goal is hidden behind a heavy, creaky door and you'll need several keys to open this door.
The key of self-confidence**. The key of message**. The key of impact**. The key of learning by doing. The key of uplifting constructive feedback. The key of original ideas.
You need all these keys to open this 3000-year-old door of rhetoric. Yet, I'd like to stress one key – the key of uplifting constructive feedback.
The +/++ approach – I learned it from my friend and positive coach Alina Driemel. This form of feedback does not allow any negative, destructive comments. They must be constructive – a highly motivational approach especially for rookies in the limelight. Highly recommendable.
Off the record I would like to encourage my fellow trainers and coaches to participate in the seminar exercises. Do the speeches, let them evaluate you too! You will be one of the team – authentic, credible, trusted.
If you want to learn more about The Seven Minute Star Method, please contact me anytime at florian [at] thesevenminutestar.com.
_________________
* Theory is part of the format, of course. The question is, do you want to throw "Ethos, Pathos, Logos" in bulleted form on the wall or do you want to give practical and interactive examples. People, especially business-oriented seminar participants, will always treasure more your practical advice.
** See also The Seven Minute Star – Become a great speaker in 15 simple steps