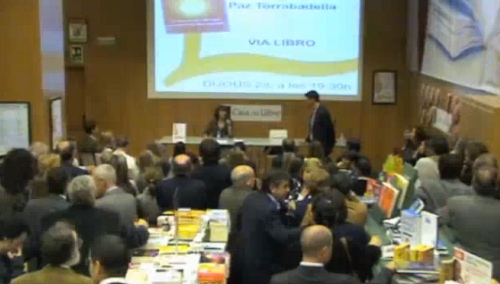 On October 28 2010, I had the great honor and pleasure to present the latest book by Paz Torrabadella, a Spanish guru in the field of Emotional Intelligence.
It is already her ninth publication and, personally, I love the title: Estupidez Emocional – Emotional Stupidity. On the release date Paz presented her book atCasa del Libro, a renowned book store in Barcelona's most prestigious boulevard – the Paseo de Gracia.
She'd been looking for a presenter, a common friend hooked us up, the rest is history.
The feedback Paz Torrabadella received from attendants of this presentation has been overwhelmingly positive. Therefore, I would like to share with you some lessons learned and the process behind this successful book presentation.
Finding The Right Flow
We certainly all agree that short presentations are better presentations. People who attend such a book presentation on a Thursday evening right after work, they don't want to be bored until they get their free cava. Friend or not friend – everyone wants to be entertained. But – their level of expectation is zero. Too many times they attended the usual "I will tell you about my book for an hour or so…" presentations. No surprises, no vocal variety, no eye contact, no passion. Paz and I knew that and we wanted to set a different standard.
We agreed on the following flow:
Presentation by me – approx. 6 minutes
Interview with Paz – three questions – approx. 8 minutes
Moderated Q&A session audience/Paz – approx. 6 minutes
Total time: approx. 20 min.
Brainstorming The Content

What interests people more – stories about the art or stories about the artist? I can see all my yellow press friends raising their voice now. People love to hear stories about the eccentric sculptor behind the art, the communist behind the painting, the soft-spoken writer behind the book.
One day before the presentation I met with Miguel, Paz's husband, to find out all the interesting facets of her personality.
Together we explored her "passion points" and her creative side. After one hour I took a photo of the white board – ready. Then we went for a heavy, meaty Castlilian meal.

Structuring The Speech
As always I used my Speech Structure Building to organize the speech. The speech body consisted of A LOVE, B EXPLORE, and C WRITE.
Paz makes quite a timid first impression when you meet her. Many in the audience would know her, I thought. They wouldn't expect me to talk about her passions in life. Perfect – surprise is a super friend of any speaker!
For the opener I used the story of how Paz and Miguel had gotten to know each other. Again: too transparent, too personal. Perfect!
Miguel and I had talked about using a mirror as a visual aid in order to reflect Paz's view on her subject from the other side. The whole world talks about Emotional Intelligence today. Paz wrote a book on Emotional Stupidity. I liked the mirror idea, but decided to use a coin instead. The coin I could use for the intro and the closing of the speech – the drain pipe!

The Stage Setting
No seated speeches! I liberated Paz from this golen rule. We would let her sit behind the table. I would use the space between audience and stage. We'd make a nice tag team of movement and stance, "war and peace".
Always arrive early! We arrived two hours early. We could fix the wrong spelling of the publisher on the Powerpoint slide. We could influence the stool and stage setting. We could test the microphone.
We were ready for the crowd to arrive…
The presentation

And This Is What The Writer Said

"We were looking for a person to present my new book "Estupidez Emocional" and we encountered the professional help from Florian Mueck thanks to a fortunate introduction by a common friend.
For his youth, his sense of humor, and his quick attitude I reserved some doubts if Florian was up to such a deep and sensible topic. Yet, he did not only understand it perfectly well, Florian organized and managed the staging in such an unprecedented, dynamic, interesting and fun way that all attendants smiled from the very beginning.
Florian managed to engage the audience in a way that they became emotionally involved with the topic, asked intriguing questions, cheerily chatted about it and delightedly walked out of the venue with a book in their hand.
Few hours after the presentation many had told me already that our event was a role model for how to present a book.
I thoroughly advise everyone who plans to present a product successfully to a specific audience – do consult Florian Mueck beforehand." — Paz Torrabadella