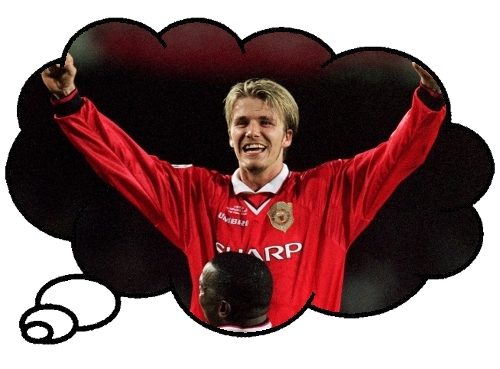 May 26 1999.  The Champions League Final between Bayern Munich and Manchester United.  What a night.  What a game.  What a moment when ManU stole the Bavarian pride in the Nou Camp stadium in just three minutes.  I was there when David Beckham and his comrades passed our block on their victory lap and smiled as no one had ever smiled before.  All my buddies from Munich felt agony.  I felt envy.
I used to play soccer myself.  In local Franconian clubs, in local and regional leagues.  My highlight was playing in the Bavarian League in the Under 18.  They considered me a good player.  Technically ok and fast.  With my personal 100m record of 10.9 sec, most of the times I was the fastest player on the field.
And yet, despite my passion for football, despite my hard training I never made it bigger.  I never made it into the higher leagues.  Why?
Compliments Alone Don't Help You Grow
Besides your natural talent (which, by the way, Daniel Coyle puts into question in his best-selling book 'The Talent Code') the person who has the biggest impact on your career as a football player is your coach.  Today a public speaking trainer myself, I tried to analyze the way my ex-trainers helped me improve as a player.
In this reflection I found out that most of them were quite good at telling me what I was good at already.  "You are fast, hence go for long spints occasionally."  Or, "Do crosses – you know how to do them."
It's always nice to hear compliments.  Do they help you grow as a player?  No, they don't.  All my trainers tried to improve the performance of the team.  They all focused on practice, practice, practice.  They did not focus on individual improvement, individual coaching, individual motivation.  None of them helped ME grow.
If Only Someone Had Told Me
Today I know perfectly well what was missing.  Maybe I could have made it from good to great.  If only someone had unleashed my self-confidence.  I lacked self-confidence.  I never passed a defender.  I always passed the ball before. Safety versus risk – I chose safety.  I was so fast, why did I never dare to pass someone?
The answer is banal.  No one told me to.  No one said, "If you get stopped twice and open up a great opportunity for the team in your third attempt – go for it, do it three times!"  None of my coaches told me how to improve.  None of them motivated me to improve.
Motivation, Inspiration, Constructivism
Reflection is a great invention. Today, in my public speaking seminars I always focus on the strengths and potentials of each and every participant.  Just as I would have loved my trainers to do.
David Beckham has an incredible talent.  But – for sure, he also had great coaches in his life who did not just pamper him, but who motivated him to dare more.  Trainers who inspired him to leave his comfort zone as a player.  Managers who were constructive and helped him build his character.
I never had those trainers in my life.  When David Beckham passed our block with the Champions League trophy in his hands I felt envy.  I would have loved to kick it like Beckham.  Several years wiser I prefer the view of the German philosopher Arthur Schopenhauer who enlightened us by saying, "Envy is the highest form of recognition."