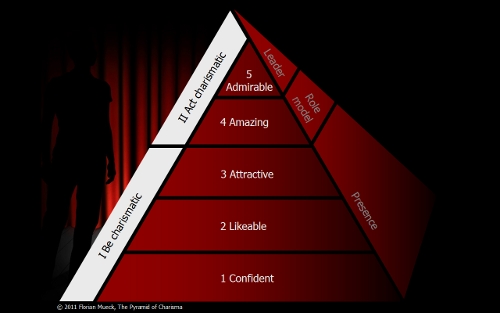 I always kind of believed them. Those who said it. I would have never thought how wrong they were. Those who say that one cannot learn charisma…
"Charisma- either you have it or you don't!"
Wrong!
On July 17 and 18 2011, I had the incredible pleasure to work with the 12-headed management team of the Mercure Munich City Center hotel.
The seminar was called "Charisma Alert – Get out from under!" The methodology we used was based on public speaking, positive and constructive feedback, and practical exercises focusing on triggers of charisma.
We kept track of each participant's interventions. We voted their performance from 1 (low charismatic radiation) to 10 (super charismatic). All of the 12 people, everybody substantially improved their level of charisma.
General Manager Daniel Braun says that, "Florian Mueck's training 'Charisma Alert' addresses one of the most important and often overlooked parts of leadership: building a style of behavior and communication that inspires, motivates, and brings people together towards achieving an organization's goals. Charismatic leaders can be created! Florian's training proves that it works. Enlightening, effective, and easy to follow – thanks to Florian my team and I just achieved another, even higher level of social and sustainable management for a cornerstone resource in the hospitality industry: human capital."
As a result of this successful seminar, I have produced a a comprehensive report highlighting no less than thirty six invaluable questions you can use to put into action to expand your own personal charismas.
Expand Your Charisma
You can get this document for free. Just send me an email or a tweet with #charismaalert to @the7minutestar.