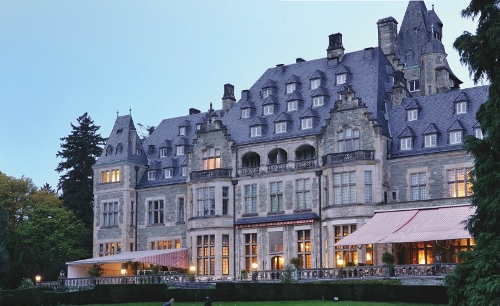 Indeed… There are worse places I could think of to be part of a two-day conference. The Schlosshotel Kronberg near Frankfurt/Germany is a gastronomic and cultural treasure chest.
My rhetorical partner and friend Conor Neill and I had the honor and pleasure to add content, ideas and presentations to this outstanding event which attracted 70 transaction advisors of KPMG's Financial Services team in Germany.
Our main contribution was to run a half-day special on building relationships. My Twitter friend Charles H. Green, inspiration and co-author of The Trusted Advisor, tweets daily about the incredible importance of trusted relationships in the professional services sector.
According to participant feedback one of the event highlights in Kronberg was the inspiring speech on relationship building Conor and I performed together before we ran into our workshops.
We gave them food for thought. We shared meaningful anecdotes with them. We asked them ten questions. 10 powerful "How?" questions. Like, "How do you show your enthusiasm?" Or, "How do you connect people?"
Some of the lessons learned I will use for my next book – "F.C. Networker – Eleven Players, Thousands of Contacts."
Thank you, KPMG, for an unforgettable time at Schlosshotel Kronberg where Conor and I could build several new trusted relationships.