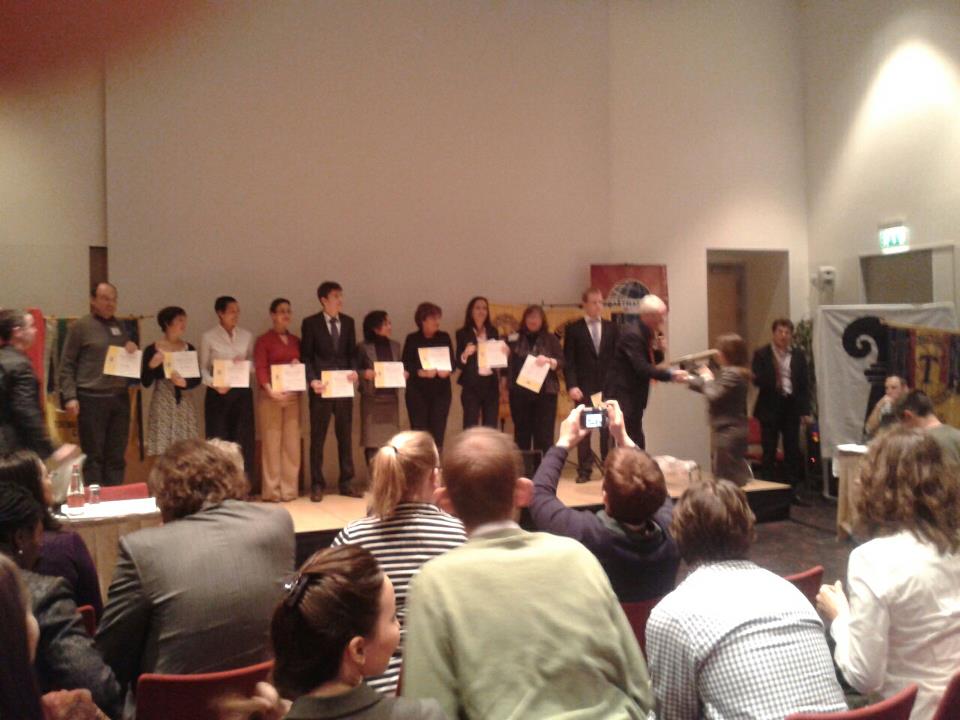 Imagine 250 people from all over Europe and from all over the world sharing time, knowledge and laughter – for three days, in one place, together. People who love to learn. People who love to give feedback. People who love to receive feedback with a smile. It seems the Land of Oz!
This fall, from November 25 to 27 2011, 250 Toastmasters from District 59 came together in Basel, Switzerland, to continue mastering the art of public speaking. What an experience!
In his workshop "Micro Motivation" Thomas Rose revealed that the ratio between consciousness and subconsciousness – expressed in lengths – is 1 cm to 50 kilometers. In Basel we all had the great opportunity to stretch that centimeter beyond words.
Here are some lessons – in an unordered list – that I learned at our Toastmasters Fall Conference 2011:
A new quote from my motivational hero Vince Lombardi. Our past International President of Toastmasters International, Ted Corcoran, cited him in his keynote speech: "You will be either fired with enthusiasm, or you will be fired, with enthusiasm."
The same Ted gave me his book on leadership, The Leadership Bus. A quick and great read on how to be a truly effective and successful leader.
Kamran Derakhshan gave us good advice on how to deal with Table Topics (impromptu talk). Have one touching story in mind and prepared – like a romantic dinner with your partner. Then, whatever question hits you, adapt the answer to this specific question. He gave examples and it really works. I wonder, though, how Kamran would have applied two hard boiled eggs to the romantic dinner…
Thomas Rose inspired us to change our perception on things, thank people and the universe for what we have, give away compliments. When we change our perception (e.g. a traffic-jam is a great opportunity to draft blog posts), when we thank others much more, when we give away our positivism, then we motivate the people around us – on a micro level, every day. Inspiring!
Switzerland IS pricy. Two 10 km taxi rides were almost as pricy as a round-trip plane ticket for two people from Barcelona to Basel.
My own workshop – From Passion to Profession – was an experiment. I had never done a workshop with 130+ people. I learned that it works well to include several 2-minute tasks of self-reflection and putting down specific notes on a beforehand prepared sheet of paper. After the workshop all participants had something tangible, a commitment they could take home.
Jack Vincent is not only a sales guru, but also a passionate DJ.
Thanks to Lars Sudmann's workshop on Virtual Presentations I will turn into a sports moderator next time I'm involved in a conference call or webinar. Use a headset, stand up, move your body naturally, speak with enthusiasm and passion – just like a sports moderator. You will engage your conversational partners much more. A terrific tip!
I've never been into debates, but I love to moderate. In an incredibly energetic session Carsten Kiess unlocked some secrets to debating and moderating debates. One thing I learned is that – as a moderator – you do not intervene if the speaker allows another one to cut out a piece of his or her speaking time. It's the speaker's problem, not the moderator's fault. Good to know.
It works well to use a giant Swiss cowbell to move a large crowd of people back into the meeting rooms.
Personally, I couldn't attend Peter Zinn's great workshop on story-telling. I heard, though, that story-telling is all about collecting content, writing and telling. An important pattern in story-telling is the underdog turning into a hero. Someone who is considered "small" by society, but who struggles to achieve something great (like Frodo Baggins in The Lord of the Rings).
Once more I witnessed how humor is all about patterns. In his grand introduction to the Humorous Speech Contest, John Zimmer used them all – exaggeration, clichés, rule of three, fall of the alpha dog, … A master piece of humorous rhetoric.
In Switzerland the rule of three also applies to kisses.
After this tremendous learning experience I'm already looking forward to our Spring Conference in May 2012.
Thank you, Basel. Welcome, Poznan!