Dear Friend of Inspiring Communication!
After a year of survival (2009) and a year of hope (2010), the year 2011 has been the year of consolidation – with a more solid base of recurring key clients, the continual cooperation with two business schools and new proven concepts in place.
Enjoy this summary of all The Seven Minute Star activities in 2011 plus an outlook on 2012.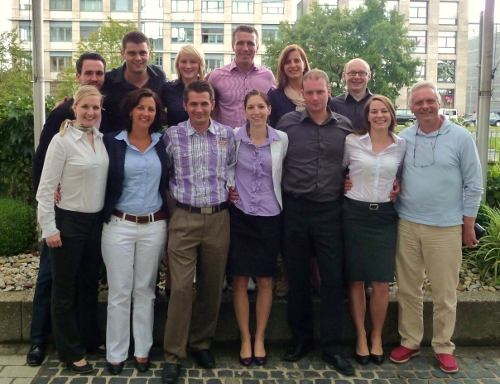 A highlight of inspiration in 2011 – Charisma Seminar Special
with the Management Team of Mercure Hotel Munich City Center
.
1 Inspiring Clients
1.1 Key Clients
The collaboration with my first key client Accor Hotels in Germany continues to be exciting and fruitful for both sides. Apart from one-day catalogue seminars called "Rhetoric" in Berlin, Düsseldorf and Frankfurt, I was asked to do specials for a reduced number of executives. In these two cases I invited guests from my personal network to reach a decent number of six participants. The mixing of internal staff and external people – all intrinsically motivated – showed great results. Finally, an inspiring highlight was my two-time engagament with the management team of Mercure Hotel Munich City Center (see also 2 Innovations).
After five days with 60+ deep-frozen food specialists I know everything about the integrated deep-frozen chain. A moment I will never forget is when one branch manager who had been suffering from the Parkinson's disease for six years participated in a body language exercise. With passion and determination he conducted for us Carl Orff's Carmina Burana for two long minutes and forty seconds. The frenetic applause is still echoing in my ears.
For the first time I shared inspiring communication secrets with professionals from Deutsche Bank Spain. The participants must have been happy about the dress code. No suits, no ties – a novelty at the bank. The 11 of us made a great team and 159 out of 160 possible evaluation points show that all participants loved to learn with lots of laughter during those two days.
In 2011, I carried out two 2-day public speaking seminars with representatives of the Stuttgart-based publishing group. About my friends from Holtzbrinck I can only say one word – professionalism. The way they organize their trainings at the School of Management and Innovation (SMI) in Berlin is simply fantastic. The publishing group offers these trainings to its entire corporate network, hence you learn a lot about online and traditional strategies in the media sector – which is great.
My former employer has been a recurring client since 2010. A personal highlight for me was my visit to KPMG Istanbul in March where I gave a trial session. Based on their experience the marketing department wanted to hire me for a 3-hour keynote workshop at their annual leadership meeting. In the end, they had to turn down the proposal because of language issues. Next time! Together with KPMG Germany I entered a new challenging field of holistic conference communication concepts (see 2 Innovations).
A global leader in free software downloads, Softonic is an incredible company. Young, hungry and more than willing to invest into the personal and professional development of their people. For me, Softonic is a role model of modern management. I am extremely happy to play an indirect role on their path of success. In 2011, I gave six 2-day public speaking trainings in Spanish and English. 12 educational, energetic, entertaining days with a total of 49 participants including all top management. Every time I'm there I feel like a Softónico.
1.2 Business Schools
As part of their International MBA program, I gave two 4-hour public speaking sessions at the Barcelona-based business school. A charming part of this collaboration is that these sessions are held at their spectacular training center in Collbató with speactacular views of Montserrat.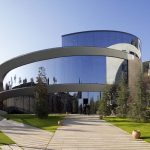 In 2011, I continued to strengthen the professional links with Prof. Conor Neill of IESE, one of the leading business schools in the world. Our collaboration included a 3-day persuasive communication program for Spanish top executives, a corporate inhouse seminar, and the unforgettable Executive MBA Intensive Week in Barcelona in October. 160 executives, mainly from Madrid. 3 theoretical and 4 practical sessions for all participants. 10 groups. A logistical maze… Luckily, we found the exit. The feedback was sensational. And – singing 'My Way' a cappella and without a microphone in front of 160 people in a restaurant has definitely been, to date, my personal number one comfort zone blaster.
1.3 Start-ups
It all began in 2009 with a public speaking seminar organized by the Berlin-based start-up magazine Gründerszene. It went on in 2011. In two public speaking seminars customized for entrepreneurs we searched for and found The Perfect Pitch. I also had the great pleasure to work with Apprupt in two occasions. This successful start-up from Hamburg is another admirable young company with young leaders who already know perfectly well that leadership is not about processes but people. Another start-up client was the Munich-based Lusini.com – an ecommerce platform for professional gastronomes. Their managing director is an old friend of mine. He participated as a guest in one of the Accor seminars. He loved it. He hired me. Seeing is believing.
1.4 Foundations & Pro Bono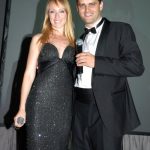 An active Rotarian myself, I gave 30-minute workshops on speech structuring in various Rotary Clubs. Also, for the first time, I co-moderated the annual charity event organized by all Rotary Clubs in Barcelona. 600 people in front of us and spontanious changes throughout the night. What a challenge! I learned that moderation is all about flexibility and the ability to say 'no' in critical moments. At the beginning of the year, I participated again as a trainer of trainers in the educational program of the Barcelona-based Foundation of Emotional Education (FEM).
.
2 Innovations
2.1 Charisma Seminar
The General Manager of Mercure Hotel Munich City Center called me in May. He said, "I want to organize a 2-day special seminar on charisma. Any ideas?" In the end, we co-created a new seminar format – Charisma Alert. The methodology of 'speak & evaluate' stayed the same whereas content and certain exercises are different. When I contacted the GM two weeks after the seminar curious about the feedback of his people, he answered, "Darn seminar! Now everyone has far too much self-confidence!"
2.2 Conference Communication Concept
KPMG hired me to support them with the annual conference of the Transaction and Restructuring team within their Financial Services sector group. The holistic communication concept included agenda building, presentation coaching of several directors, creative design of the conference slide pack, conceptualization and realization of relationship building workshops, and an inspiring keynote speech on the same topic. Fortunately, I could count on the fantastic support from Prof. Conor Neill of IESE.
2.3 Executive Presentation Coaching
There are leaders and managers who think twice when it comes to preparing important presentations. Executive Presentation Coaching is one possible solution. In 2011, for the first time, I had several clients in this field. These clients were facing challenges like a keynote speech at the most important sector event, an internal sales presentation or a strategy presentation to the Advisory Board. I like this area a lot because one gets instant results. A great media coverage, an internal buy-in or an extraordinary budget approval show that communication is, after all, a hard skill.
2.4 Social Media Speeches
Prevero is a business intelligence provider based in Munich. At the beginning of 2011 they planned to transmit their core messages in social media via 2 to 3-minute audiovisuals. They wanted to charge their rather long and dull demo presentation style with emotions – social media proof. Together with their marketing people I developed a 10-step process which transforms any corporate product information into a persuasive social media speech based on Logos, Ethos and Pathos.
.
3 Shared Knowledge
3.1 Book
By December 31 2011, the book The Seven Minute Star had sold 661 times through Amazon and self-distribution.
3.2 Podcasts
In 2011, Prof. Conor Neill of IESE and I launched a series of podcasts on public speaking – Speaking as a Leader.
To date, this series includes the following chapters:
How To Use Presentations (Florian)
The 3 Pillars of Persuasion (Conor)
Intellect and Credibility (Florian)
4 types of Audience for your Speech (Conor)
Make Your Body Talk (Florian)
5 Aspects of a Powerful Speaking Voice (Conor)
Use The Power Of Your Smile (Florian)
Great speaking, how much should I practice? (Conor)
How To Pull Laughs (Florian)
Rhetorical Devices (Florian)
3 Ways To Engage Your Audience (Florian)
4 Steps to Great Speaking (Conor)
.
4 The Festival
Since 2006 I've been promoting the idea of organizing European get-togethers in European metropolisis every two years – The Festival. One Week, One Europe. The idea behind this bottom-up movement is to create a European team spirit.
On July 24 2011, we went offline for the first time. Some 80 Europe fans came together at the beach of Barcelona and celebrated The Festival. One Day, One Europe… more information.
On May 30 2011, we celebrated the greatest communicational success for The Festival project we had accomplished by then. I could present this European movement on Catalan TV… more information.
.
5 Toastmasters
Toastmasters International continued to be my personal laboratory of growth in 2011. Highlights were a super professional club meeting I joined in Singapore in April, a special Toastmasters public speaking seminar I gave in Madrid in May, our club's spring retreat to Puig de la Balma in June, and the Continental Europe Fall Conference in Basel in November.
At the latter I gave a workshop to 150 people on "From Passion to Profession – How to become a Professional Public Speaker". David Sen wrote about it in The Clarion: "His passion and love for his work is evident in everything he does. His inspiring workshop showed us the steps to follow his path. His positive, dynamic energy, combined with his practical experience-based advice and creativity helps his audience take action."
.
6 Outlook 2012
In 2012, I will continue to focus on my existing and new key clients. Apart from the already established seminars on public speaking and charisma, I will promote a special format boosting your networking skills. On the same topic I'm about to finish my second book with the title F.C. Networker – Eleven Players, Thousands of Contacts. Publishing is planned for the third quarter of 2012.
Keynote speeches and keynote workshops on inspiring communication will be another next logical step which I plan to achieve in 2012.
Finally, in cooperation with John Zimmer I'm working on a secret project. Only one thing I can reveal at this point: 344 B.C. will be a fantastic year for public speaking fans!