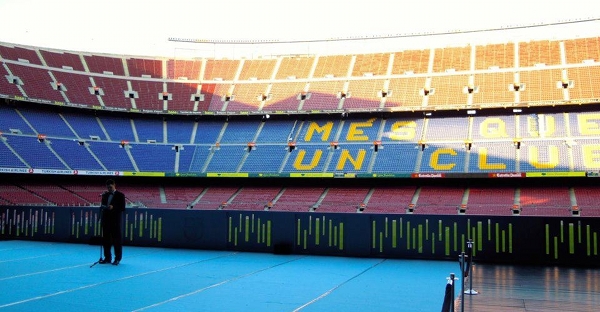 Final preparations
On June 16 2012, I had the great honor and pleasure to co-moderate the third annual summit of all Rotarian clubs of Barcelona. It was a special event in all senses. For me, as a passionate supporter of F.C. Barcelona it was even more special because of the venue.
Our third Trobada Rotary took place at Camp Nou, the football shrine of one of the best soccer teams in history.
Here are eleven lessons I learned as a moderator at this unique event.
1 Be calm as Victor Valdez
At such an event with more than 700 prestigious guests, among them the Mayor of Barcelona, it is absolutely normal that things get hectic. You as the moderator cannot join this hustle and bustle. You must stay calm and transmit zen. Just like the goalkeeper of F.C. Barcelona.
2 Be committed as Éric Abidal
He played Champions League games while he was suffering from a cancerous tumor in his liver. That guy is more than committed. As a moderator of such an event commitment is vital in the preparation phase, on the day, and during the event. My co-moderator Laia Marin and I met before to get the chemistry right. We worked on the moderation cards together, we attended several committee meetings, we were there much earlier than the guests. We were committed.
3 Be passionate as Carles Puyol
The central defender is a living legend. His ex-coach Guardiola said that he lived every training session as if it were the last. This is passion! As a moderator you must show passion throughout the entire event. Smile at people and be energetic. You don't have to do it, you want to do it. This is what people feel.
4 Be dominant as Gerard Piqué
I don't know if he is as dominant at home with Shakira as he is on the field. But on the pitch Piqué is a rock. As a moderator you must say "No!" quite often. Can you announce this? Can you do that? All the time someone from the organizing committee comes to you with special wishes. But you must follow your flow. Your flow is smooth because you've thought it through. Stick to your script, be dominant as Piqué.
5 Be enduring as Dani Alves
He runs down the right wing endlessly. He has the lungs of a horse and the power of a lion. Dani Alves endures. You as a moderator cannot become tired either. From the first moment on stage till the last syllable it's all about energy, energy, energy. Keep running like Dani Alves.
6 Be robust as Sergio Busquets
They call him the life insurance of both the Barça team and the Spanish national team. Sergio Busquets is robust like a tree. When you moderate a prestigious event the tone can get rougher in the preparation phase. This is normal. Think about Sergio and you will smile.
7 Be creative as Andrés Iniesta
The MVP of the recent Euro soccer championship is one of the most creative players in the world. Nobody knows how he manages to get passed three players sometimes. As a moderator you also need creativity. You create a script beforehand. But at the event itself, depending on the mood, the crowd, the VIPs, you must be flexible. At this event I skipped most of the moderation cards and came up with impromptu introductions.
8 Be surprising as Xavi Hernandez
Did you see that pass that led to the 2:0 against Italy in the Euro final? Wasn't it surprising? No one saw it coming. It came out of the blue. Xavi is a master of surprising passes, which drive the opposing defense nuts.  When I began my moderation at the dinner inside Camp Nou I said: "Tot el camp (The entire field). We all. We all together. We all together with only, only, only one objective… to eradicate Polio!" I made a pause and no one clapped. Spontaneously I added a line, smiling: "This is normally the moment for you to applaud." Everyone laughed and applauded. No one had seen this pass coming.
9 Be technical as Cesc Fàrbregas
Arsenal London hired him at the age of 16. He came back to triumph in Barcelona. His technical skills are not from this planet. Needless to say that as a moderator you also need great technical skills in public speaking. Like the first sentence. When I started my moderation and introduced the Mayor of Barcelona, Xavier Trias, I used the polemic phrase pattern. My first two words were: "Soy guiri!" (I'm a tourist). This self-ironic start created laughter after only two seconds and I had full audience attention. It's all about technique.
10 Be fast as Pedro
Poor defense. When Pedro approaches the end zone panic is guaranteed. He is fast as an eagle. In the moderation arena you have no time to think. Changes to the agenda come sudden and unexpected. The only way to deal with them is to be as fast as Pedro.
11 Be humble as Messi
He is the best player of the world. And yet, not like others, he stayed humble. When their team wins an important game it can happen that he ends up eating a steak in his favorite Argentinean restaurant with his dad and his brother. As a moderator you are not the protagonist. You pave the way for the protagonists. Be humble and people will appreciate your humble show.
Calm, committed, passionate, dominant, enduring, robust, creative, surprising, technical, fast, and humble – these were my ingredients of a successful night of moderation. It's a challenging, but rewarding task. If you have the chance to moderate an event, do it! It's a fantastic opportunity for personal and professional growth.