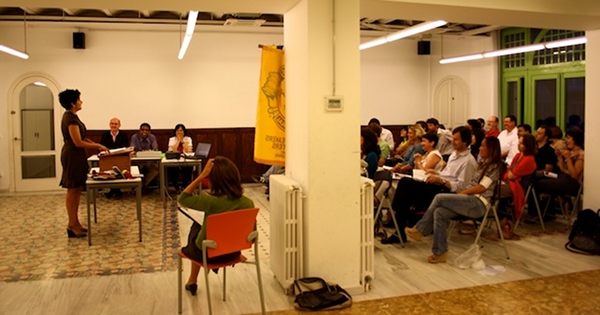 How many days do we have in life that we can really call life changers?
Ten? Five? Three? – I don't know. Mostly we spot change when it's already happening at full speed – either into a good direction or a bad direction. It must be a great gift to detect change right in the big bang moment.
November 1, 2005 was one of those moments.
A couple of days before I had attended a fashion show by Svarowski in Barcelona. My friend Karin from Austria had two invitations. She invited me and another friend, Birgitte Knaus, an internationally acclaimed portrait painter.
We had just sat down on the grandstand when Karin told Birgitte about my passion for karaoke. Pleasantly surprised Birgitte exclaimed: "But then you have to come to our Toastmasters club!"
"Toast… what?", was my answer. I had never heard about Toastmasters International in my life till that day.
On November 1, 2005 I joined one of their meetings for the first time. The first impression was quite shocking. Banner and Sergeant at Arms and Mrs. President and clapping all the time. I thought, what a bunch of freaks!
But then the meeting started. From the first speech I heard, I knew this was the best platform of professional and personal growth I had ever experienced. Right after the session I signed up.
Ever since I've been a passionate Toastmaster myself. I participated in competitions, I gave dozens of speeches, I received and gave tons of evaluations, and I even turned my passion for good public speaking into a profession.
Toastmasters has changed my life completely, and I'm not even talking about all those new friends who have entered my life. November 1, 2005 was a life changer!
You too can change your life. Do yourself a favor and join Toastmasters International!
//
I thank all my great friends from Prestigious Speakers Barcelona for all the great moments we shared and for all those great moments that are yet to come. You are my family!