Dear Friend of Charismatic Communication!
2012 has been a fantastic rhetorical ride through Europe – from Spectacular Speaking in Poznan to Wild Waters of Change in Garmisch-Partenkirchen, from Charisma Boosting in Salzburg to boosting pharmaceutical products in Barcelona.
Enjoy this summary of The Seven Minute Star activities in 2012 plus an outlook on 2013.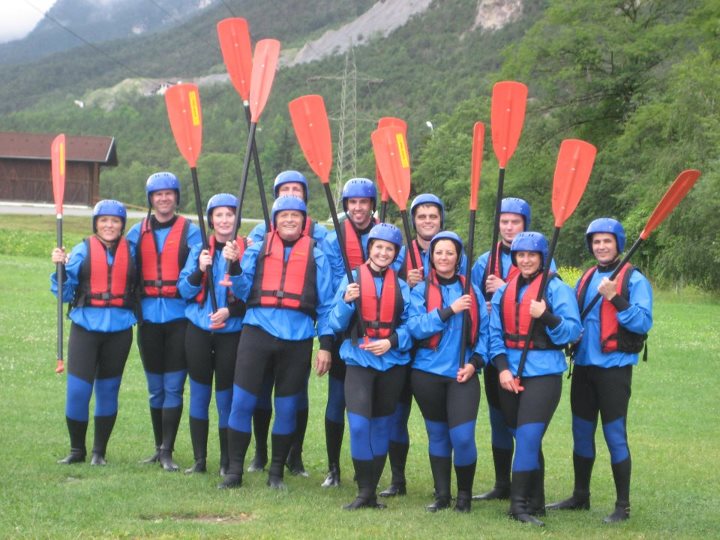 A highlight of charismatic communication in 2012: Wild Waters of Change
A seminar special with the Management Team of Mercure Hotel Munich City Center
.
1 Inspiring Clients
1.1 Key Clients
In 2012, I carried out a series of trainings with representatives of the Stuttgart-based publishing group. Highlights included the internal Media Manager program in coop with the School of Management and Innovation (SMI) in Berlin, a two-day charisma training, and several inspiring public trainings for My Hammer ("Mark, in my entire life I will not be able to erase that image of you reading the entire collection of Shakespeare in Old English.").
It's all about networking. After Anne Seebach from the Berlin-based social gaming behemoth Wooga had participated in one of my Gründerszene seminars, she was hooked. Soon after, the management of her own company looked for effective ways to boost the public speaking capabilities of their main conference speakers. Anne screamed: "I know a guy!!!" Ever since I've been working with Wooga, and all I can say is: fantastic, fantastic, fantastic! Extremely cool people from 35+ countries turning their office into the United Nations of Gaming. Every seminar at Wooga is a highlight – woogalicious!
What can I say about my great friends from Accor? Not only have I learned so much about the complicated world of managing hotels, I also have made some great friends. Apart from several one-day catalogue seminars on rhetoric, I worked with Mercure and Novotel management teams on a more individual level. With the team of Mercure Hotel Neuperlach Süd (Munich) I spent two unforgettable days in Salzburg, Austria. In our two-day charisma seminar it was priceless to see the regional director of Mercure representing the "Wolf party" challenge the chef and representative of the "Rabbit party". Another incredible event was the engagement with the management team of Mercure Hotel Munich City Center in Garmisch-Partenkirchen. After public speaking and charisma they were hungry for more… (see below at 4 Other Innovations)
My integrated frozen food chain friends continued to improve their communication skills in several seminars in 2012. What is so admirable about bofrost* is the fact that most of their members have been playing in the same team for many years: 37 years, 15 years, 25 years, 32 years, 9 years. 21 years, … This is unique in a world where working for more than three years in one company is considered weird. Keep bofrosting, my friends – this is your real unique selling proposition. You are passionate; and passion you cannot buy at Lidl!
My second year with one of the global leaders in free software downloads. For me, Softonic continues to be a role model of modern management. Happy faces, happy people, happy ambience – Softonic is a cradle of best practice! In 2012 I had the great opportunity to spread the seeds of positivism and constructivism twice.
Energy, more energy, Jochen Schweizer. The founder, soul and spirit of Germany's first mover in the experience business had "met" me in a Handelsblatt interview (German language). In the end, he invited me to give a couple of one-day seminars for his management team. I was deeply impressed by the passion, humaneness and modesty of his people. I firmly believe in the nonexistence of coincidence when it comes to success. For me, success is always a result of passion and hard work. Jochen Schweizer = Passion + Hard Work.
1.2 Business Schools
Like in 2010 and 2011 , as part of their International MBA program, I gave another series of 4-hour public speaking sessions at their spectacular training center in Collbató with speactacular views of Montserrat.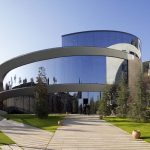 In 2012, I continued to work with Prof. Conor Neill of IESE, one of the leading business schools in the world. Our collaboration included another unforgettable Executive MBA Intensive Week in Barcelona in October. 150 executives, mainly from Madrid. 3 theoretical and 4 practical sessions for all participants. 9 groups. Once again a logistical super challenge. I'm very happy that we could count on the excellent collaboration of great friends and professionals like Tobias Rodrigues, Tony Anagor and Mel Kelly.
Conor and I also did a communication session for the top management of Microsoft in Spain. During that one-day training I coached 70+ Microsoft executives in PowerPoint. It might sound ironic, but it was eye-opening for both sides.
Since the EMBA Madrid program has been such a great success, we could extent Conor's Persuasive Communication module to IESE's top program, the Global Executive MBA, the EMBA Barcelona and the Barcelona-based MBA program.
1.3 Start-ups
It all began in 2009 with a public speaking seminar organized by the Berlin-based start-up magazine Gründerszene. It went on in 2012. In four public speaking seminars customized for entrepreneurs we searched for and found The Perfect Pitch.
An absolute highlight in 2012 for me was my engagement with the Krakow-based start-up Applicake. Tim Lossen from Wooga had established the contact. I arrived on a Friday end of March. At the central bus station Agata, the CEO was waiting for me in the freezing cold. I remember her shiny yellow scarf. She welcomed me with a warm Polish smile. Agata took me to their offices where a birthday party for her co-founder was in full effect. Vodka for the trainer – great! They went out with me for dinners, they cared for me. It felt like home from the moment we met. Two days of seminars for two teams – of course, on Saturday and Sunday. I will never forget those days with Applicake!
1.4 Keynote Speeches
Im May 2012 I had my first professional gig as a keynote speaker. The challenge: an inspiring 15-minute after-lunch speech for the participants of the Berlin-based online conference Heureka! The Bumpy Road to Heureka! was my topic. I shared four lessons I had learned on my bumpy road to success – perseverance, networking, positivity, mentorship.
My idea for the future is to create unique keynote speeches for each event instead of giving the same talks again and again.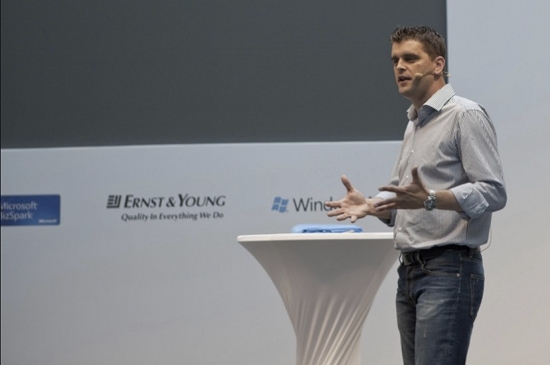 .
2 Foundations & Fun
An active Rotarian myself, for the second time, I co-moderated the annual charity event organized by all Rotary Clubs in Barcelona. 700 people gathered in the holy football shrine Camp Nou. What a challenge! In this second round I learned 11 important lessons.
Like in the years before I participated again as a trainer of trainers in the educational program of the Barcelona-based Foundation of Emotional Education (FEM).
Since 1981, a team of dedicated professionals cares for multiple-disabled children in Barcelona. Children with multiple disabilities have two or more disabling conditions that affect learning or other important life functions. As part of my pro bono activities, I supported the management of Nexe Fundació in their communication activities.
In 2012, for the first time in my life I dared to step onto the stage of my home village's carnival club – Karnevalsverein Weidach. For this first run I had translated one of my favorite sketches on YouTube into German and changed and adapted it to the local taste and environment. What a super challenge to be on that very same stage where my father and mother had been for so many years. The experiment worked well. In 2013 I'll be back on stage with my own original content – all in rhyme.
It took Rose and me 28 hours to get there. But – we made it: Los Cabos, México. My long-time friend JK Wasson married his Meredith. I couldn't help it; I just had to give a wedding speech. Fun, fire and friendship were the pillars of the five-minute glorification of the groom. Standing on a bench in-midst of 150 Americans in an all-Mexican Mariachi bar giving a wedding speech to one of your best friends in life – Mastercard!
.
3 Rhetoric – The Public Speaking Game™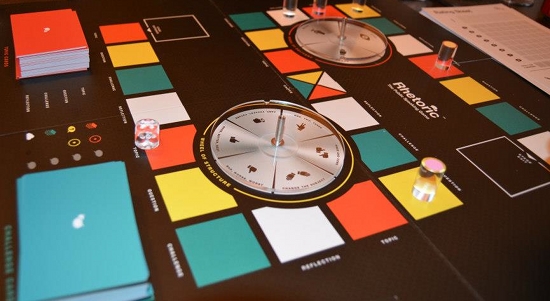 In 2012, John Zimmer and I turned the idea for a first board game on public speaking into a tangible product. Since August 2011 we'd worked on RHETORIC. Test rounds in Geneva, test rounds in Barcelona, hours and hours and hours on Skype, and the creative support of our partners from Navarra visuelle Kommunikation Berlin helped us make this dream come true.
In a first limited edition we produced 250 games. By year-end 2012 the majority has been ordered.
.
4 Other Innovations
4.1 Wild Waters of Change
Daniel Braun, General Manager of Mercure Hotel Munich City Center, called me once again. For the third time! After one day of rhetoric, and after two days of charisma his management team wanted more. But – what to do? After a briefing session on the phone, we agreed on two areas of focus: processes and people (leadership). Since his team wanted to include a more traditional form of team-building this time, we agreed on integrating some wild water rafting. The idea for "Wild Waters of Change" was quickly born. Not without challenges for the participants. A highlight were the prepared speeches "My perfect hotel" accompanied by the sound of their favorite songs. Or – "I, leader" where they had to reflect on their lives as if they were Martin Luther King or Maggie Thatcher. Kaizen group sessions, birthday dinners and lots of laughter and learning made these two days in Garmisch-Partenkirchen and Austria an unforgettable experience.
4.2 Barcelona Special
In September five partners of the German law giant CMS Hasche Sigle came down to Barcelona for a two-day public speaking seminar. I had organized the hotel for us, made reservations for the dinners and accompanied them throughout the entire event. It was a blast! We had such a good time that they decided to do a follow-up in Prague in 2013. Barcelona as a seminar location is definitely something I want to promote more among my clients in 2013.
4.3 Joint seminars
In 2012 I also teamed up with fellow professionals. In one occasion I gave a seminar for the Berlin-based casual games player Gameduell together with my friend and co-creator of RHETORIC, John Zimmer.  On top, we had the honor to carry out this seminar in one of Berlin's best locations.
In another occasion the Spanish pharmaceutical group Ferrer International asked for a two-day format for 24 people. I adapted The Seven Minute Star agenda and together with the conflict mentor Tobias Rodrigues we all had an incredible time. The energy was palpable. The passion was overflowing. In the future I will advise my clients to consider bigger groups and co-trainers like Tobias or John.
.
5 Books
By December 31 2012, the book The Seven Minute Star had sold 1,027 times through Amazon and self-distribution.
The second book, PLUSPLUS – Patterns for Better Communication, has been written, edited and designed by the end of 2012. It will be published on Amazon as print-on-demand and ebook in February 2013.
.
6 Spectacular Speaking
For the first time in May 2012, Olivia Schofield, my fellow Toastmaster and professional speaker, invited me and some other pros from Toastmasters to participate in her Spectacular Speaking Series. The location: Poznan, Poland. In November we repeated this unique one-day public speaking training, in Cologne, Germany. Based on the great success more events are planned for 2013.
.
7 Outlook 2013
2013 is already a reality. Seminars, seminars and more seminars. The promotion of RHETORIC. The launch of PLUSPLUS and its 108 patterns for better communication. An HR model based on Logos, Ethos, Pathos. More keynote speeches. More clients taking advantage of my home-base Barcelona. More customized seminar formats like "Diving into New Perspectives" with Mercure Hotel Neuperlach Süd (Munich). More Spectacular Speaking. More comfort zone blasting. More boosting of charisma. More friends. More experiences. More memories.
Thank you for your trust!
Keep boosting your charisma!
Florian