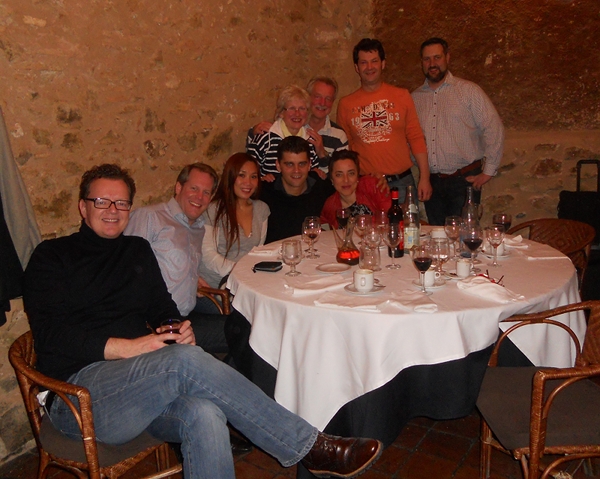 What happens when seven frozen food soul carriers speak in public? Frozen food rhetoric!
Yet, it didn't feel cold at all during those two days in Barcelona in February 2013. It rather felt warm, friendly, human.
Here's the logbook of an unforgettable weekend:
Friday, February 15 2013
1:15 pm – First arrivals sitting on a table next to the Front Maritim hotel bar. Cava time. They need it. At 3pm their 1.5-day public speaking training is about to kick off. Number one fear in the world? Cava is the answer.
2:59 pm – All seven participants are in the seminar room. Daylight. The black and white image of an unknown man on the wall. Seminar coffee.
3:26 pm – Expectations done. First mini talks done. Great speakers done. Characteristics done. Now the first speech project: My life in three minutes. Laughter, cigarette break, more coffee. Preparation. Silence. Apart from the sound of Hollywood themes in the air.
3:45 pm – The first speech of the seminar. Wolfgang's doing a great job. Nothing can go wrong. He's the first speaker. Applause after two minutes 50. Evaluation. Positive and constructive.
4:14 pm – The first short break. Cigarettes. More coffee. First reflections.
6:13 pm – Gerrit throws candies at his audience. He yells: "Kölle Alaaf!" Carnival style.
6:31 pm – The first round of speeches is done. Now comes the Speech Structure Building™ exercise. Why bofrost*? The group comes up with the three main benefits of their service – quality, health, enjoyment.
6:59 pm – First speech round and speech structuring done. We've reached the base camp of our rhetorical climb.
7:02 pm – Bar. Beer. Beautiful.
7:05 pm – Axel tells politically incorrect jokes. Laughter.
8:15 pm – Walking to our seafood restaurant – the popular Salamanca.
8:45 pm – We need a stopover at the Port Olimpic. No beer for Gerrit – 40 days of fasting.
8:59 pm – Tired of walking. Two taxis.
9:08 pm – Salamanca. Sitting down on one table. My special waitress Lori insists on serving us. We move to another room.
9:23 pm – Galician white wine, pulpo gallego, Spanish ham, pimientos de padrón, pan con tomate, chipirones, esqueixada, … general happiness!
11:14 pm – Three platters of seafood are gone. Markus recites Goethe's The Sorcerer's Apprentice. Impressive!
11:23 pm – I give my carnival speech. Gerrit is deeply moved.
11:59 pm – Shoko. Clubbing.
2:01 am – Back to the hotel. Joke-telling session on the sandy beach. Needless to say: extremely politically incorrect.
Saturday, February 16 2013
9:01 am – It's hard to get up.
9:59 am – Everyone in the room. A lot of coffee.
10:01 am – 15 steps to greater speaking. Together we take the first step – self confidence.
10:02 am – Wolfgang is singing "Hänschen Klein". Mastercard.
11:24 am – The 15th step – smile.
11:30 am – 30 minutes of preparation. Pathos speeches. Emotional speeches. Topics in envelopes. The universe decides.
12:00 pm – Axel gives the first breath-taking speech. "I don't want a half-full glass! I don't want a half-empty glass! I want my glass to be full!"
12:16 pm – Gerrit creates a beautiful picture of his relationship with his younger brother. Then an OMG moment. Shock, desperation, agony. Recovery. Happiness. Wow! The longest applause.
1:32 pm – More goosebumps. Melanie talks about her beloved grandmother. She paints the most melancholic picture of that elderly lady in her sleeveless overall with florets. Beautiful words. Emotional. Human.
2:00 pm – Lunch. Red wine.
3:01 pm – More Bower in your Boint (the Franconian version)! How to use slide presentations with more power.
3:28 pm – Group presentation. iHolo time! Two teams of two, one team of three. Gabi and Wolfgang, the married couple, finally united again!
5:00 pm – iHolo goes wild! Jens finally uses his portentous voice. The overall key message of all three teams: communication is closeness.
5:14 pm – The stool. The best! Positive feedback for everyone. Almost tears and real tears.
6:03 pm – My final words – speech structure building, energy, positive and constructive feedback!
6:06 pm – Books and certificates.
6:11 pm – Bar and beer. Ginger Ale for Gerrit – 40 days of fasting.
9:05 pm – Can Cortada. Catalan dinner. Wonderful hours with wonderful people.
Open end.
Thank you, Axel, Gerrit, Jens, Markus, Gabi, Melanie and Wolfgang! 
Frozen food rhetoric – to be continued.