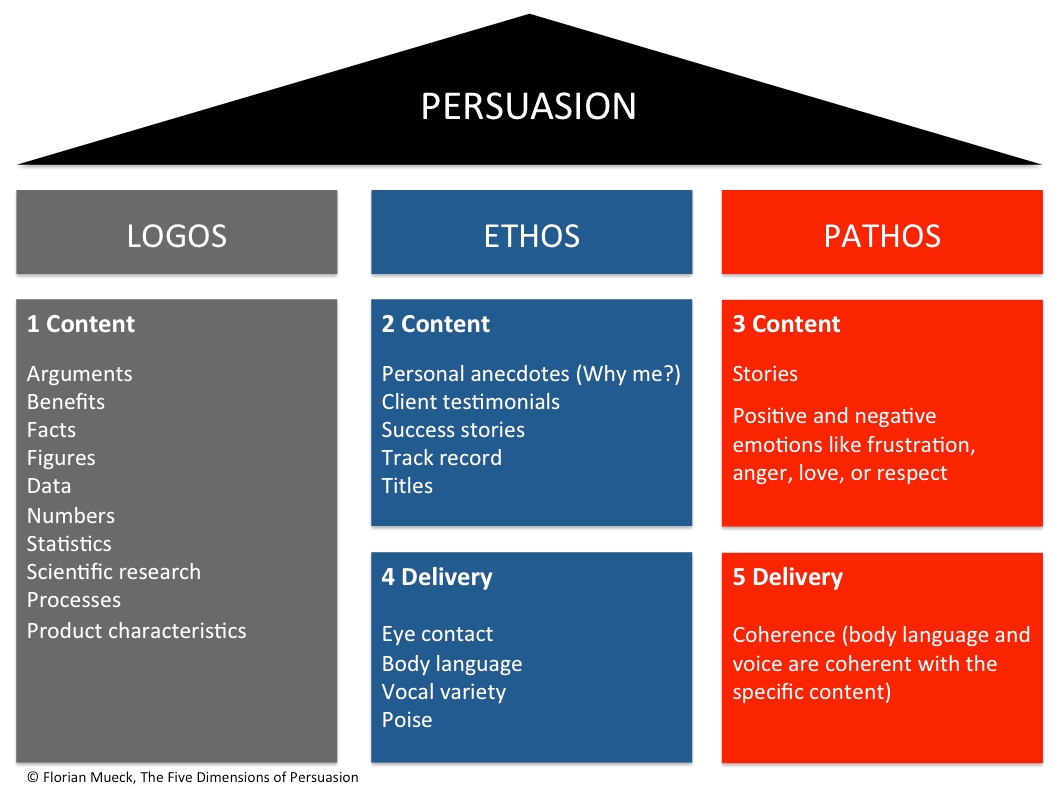 In the past I talked a lot about Aristotle's three pillars of rhetoric. Logos, Ethos, Pathos – your arguments, your credibility as a speaker, your emotional appeal to the audience. Been there, done that.
In this post I want to draw your attention to two more dimensions. Two dimensions, which, for me, also have a great impact on your power to persuade people and move them to action.
Logos, the first pillar, is exclusively content-driven. Ethos and Pathos, on the contrary, have two dimensions – a content AND a delivery side.
Ethos – Delivery
Your poise as a speaker, the self-confidence you exude, the conviction you transmit – these are first-class credibility boosters for you as a speaker. Strong eye-contact, expressive gestures and body language, and ample vocal variety drive your authority.
Pathos – Delivery
On the content side you can appeal to the emotions of your audience by telling stories. Storytelling, especially when you talk about your own experiences, is a great way to build bridges of sympathy with your audience.
Yet, many speakers fail on the delivery side of Pathos. Or, expressed in a more constructive way, they could gain much more impact if they respected the Triangle of Coherence. According to the Triangle of Coherence the body language you use, the voice you project and the content you share must be in a state of balance. >> read more.
When we read about the three pillars of rhetoric we hear a lot about content. Be aware that there are two more dimensions on the delivery side. Practice them, ask for feedback, practice more – your persuasive power will increase. That's a promise.