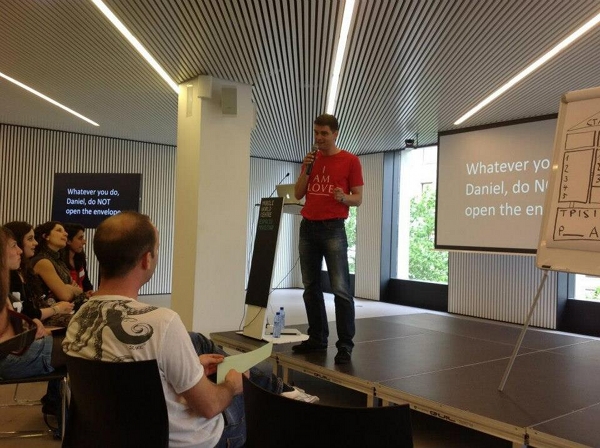 On April 27 2013, I had the great honor and pleasure to speak at SenseCamp Barcelona. At this fantastic get-together of almost 100 social entrepreneurs from all over Europe I held a 30-minute keynote workshop on Social Good Rhetoric as part of my pro bono activities.
During the lunch break I placed 80 multi-color envelopes on the chairs. Since people tend to open any closed envelope that falls into their hands right away, I threw the phrase Whatever you do, Daniel, do NOT open the envelope on the multiple screens. Since Daniel is one of the driving forces behind SenseCamp the crowd showed smiling faces before the workshop even began.
I started the workshop with the polemic first sentence pattern:
I've got bad news for you. I've got bad news. Everything I will tell you in the next 30 minutes, everything I will communicate, everything you will write down on that sheet of paper in the envelope is old. Very old. 2,300 years to be exact. […] The good news is, this s*** just works!
After the opening I asked Daniel and the rest of my audience to open the envelopes. In the envelopes those enthusiastic, young social entrepreneurs found one sheet of paper showing this image:
.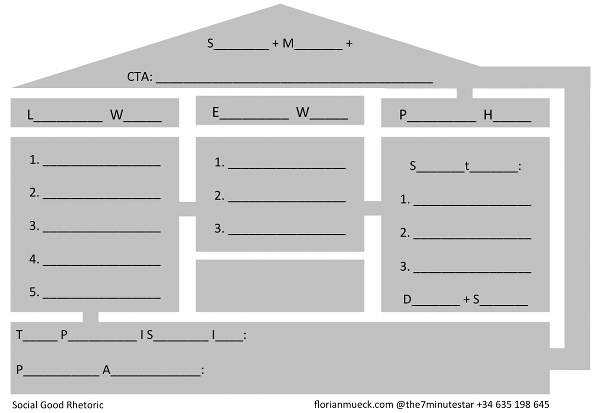 .
In thirty minutes including three 3-4 minute working breaks, accompanied by animating music, they all filled in personal information for boosting their personal social good rhetoric. We focused on the three pillars of rhetoric.
In the first pillar, Logos, they collected five water-proof and logical arguments for their social projects.
In the second pillar, Ethos, they looked for three stories or incidents in their past, which make them a credible person to promote their specific project.
In the third pillar, Pathos, they searched for emotional stories they can share in the future to appeal to the emotions of their audiences like potential collaborators or investors.
In the remaining time I gave them more tips on how to start and end a pitch presentation. After 30 minutes all of them were equipped with powerful munition for their weapons of peace.
If you're a social entrepreneur and want to know more about Social Good Rhetoric, please don't hesitate to contact me!
Thank you, SenseCamp gangsters, it was a blast working with you!