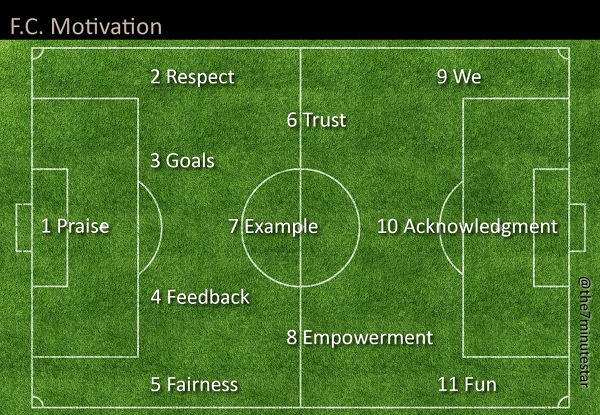 Background image by arts-wallpapers.com
The third team of the football club series – the F.C. Motivation.
No other team has more fun. No other team has a better team spirit. No other team is more intrinsically motivated.
Who are these moving players of this moving team?
1 Praise
PRAISE, the goalie. Constantly and all the time he speaks in superlatives. You are the best! You are the best thing that has happened to this team! You are the most amazing midfielder I've ever seen! Sometimes his teammates get a bit annoyed by his overflowing positivity. But no one will deny that PRAISE is everybody's darling on the team.
2 Respect
RESPECT loves diversity. Black or yellow or white or red or gay or straight or shy or extrovert or rational or intuitive – RESPECT has positive feelings for everybody. On the pitch he surprises his opponents with sudden and mean attacks. They feel so good about him that they completely forget about defending the right wing.
3 Goals
GOALS, the central defender, is a visionary guy. But he doesn't talk about the big goals in life. He prefers the small, achievable steps. At every second team meeting he insists on showing his favorite inspirational speech by Al Pacino in Any Given Sunday. His teammates already know the text by heart. GOALS loves Al's one-inch-at-a-time-goal-setting. In the halftime breaks this loud character with that black spot on his nose shouts at his fellow players: Victory is the sum of all the small achievements throughout the game – a tackle here, a good pass there, a good pass here, a great defense there. One inch at a time!
4 Feedback
FEEDBACK has a great gift. He turns even the most negative comments into rhetorical hallmarks of inspiration. His comrades love him for his positive-constructive attitude. He tells them what he thinks they do well. And he also tells them what he thinks they can do even better. FEEDBACK knows no minus. Mickey, the coach, was so impressed by the impact of FEEDBACK's approach that he copied it. Now the entire team of F.C. Motivation follows FEEDBACK's approach of Plus and PlusPlus. Of course, FEEDBACK's opponents on the pitch hate him for his constructive comments like, If you'd passed me on the left side you could've made it into the box.
5 Fairness
For the right wing defender one thing is extremely important: Justice! FAIRNESS cannot stand it when their coach Mickey treats one player better or worse than others. Then he stands up during the team meetings and exclaims: Injustice is a dangerous demotivating factor! I've worked hard for the last few weeks. But I feel that others receive more attention. If you don't want me to be demotivated, Coach, treat everyone the same way. Then I'll tear out my arms and legs for you on the pitch!
6 Trust
TRUST, the technical midfielder is the most versatile player on the pitch. TRUST is great at defending, TRUST is great at attacking. And TRUST is a great friend too. When new players join the team or new admin staff enters the club, TRUST is the first one to break the ice. He doesn't expect others to believe in him, TRUST believes in others first. Once at a team retreat he shared his way of thinking. It's like a bank account, he said. You can either pay into the trust account every time someone does you good or you have a trust-loaded account and draw out amounts every time someone does you bad. I prefer the second option. To date, I've never drawn out any amount. No wonder they made TRUST their team captain.
7 Example
EXAMPLE is the heart and the soul of the team. In practice sessions the team's playmaker is the first one to arrive and the last one to leave. In every game he fights like a lion, runs like a horse, endures like a pit bull terrier.  EXAMPLE combines integrity and empathy with performance. On and off the pitch. EXAMPLE is the Carles Puyol of F.C. Motivation – highly admired by fellow players and fans.
8 Empowerment
His critics say he ducks out too often when responsibility is at stake. Those who know him better understand EMPOWERMENT's attitude in certain key situations of the game. EMPOWERMENT is the most experienced player of the team. When the team faces important free kicks, sometimes the free kick specialist lets younger players like FAIRNESS or FEEDBACK step into the limelight. In the past he did the same with decisive penalties. EMPOWERMENT tends to say, How can you learn how to swim onshore? The younger players love him for passing on his responsibility. Once during a press conference after a tight victory FAIRNESS remarked that, The pressure is enormous, but we, the younger players, grow with our tasks. This pressure motivates us a lot!
9 We
WE the left wing striker is the team builder of F.C. Motivation. He helps organizing team meetings, team retreats, parties, hiking trips and other social activities. For WE the team is everything. He's convinced that their great team spirit is the true key to success. In the past it repeatedly occurred that WE told coach Mickey about bad apples on the team: Coach, be aware, one bad apple spoils the bunch! Those players had to leave the club at the end of the season. The house parties of WE are legendary. Not one member of the F.C. Motivation family will ever miss one of those.
10 Acknowledgment
ACKNOWLEDGMENT is the older sibling of PRAISE, the goalie. ACKNOWLEDGMENT is the team's top scorer. He's the Messi, the super star of F.C. Motivation. But it's not his scent of goal, which makes him a truly great player. It's his positive attitude towards his fellow players' performances. He constantly motivates them by pointing out what they do well. A good free kick by EMPOWERMENT, ACKNOWLEDGMENT will tell him. A great tackle by TRUST, ACKNOWLEDGMENT will tell him. A super pass by EXAMPLE, ACKNOWLEDGMENT will tell him. His positive, uplifting comments are the oil, which keeps the motor of F.C. Motivation running at full speed.
11 Fun
FUN is the joker of the team. Always smiling, always laughing, always telling jokes – FUN creates good vibes all the time. Whenever the mood goes down or the team spirit is at risk, it's FUN who brings back the laughter. Like his best friend WE, FUN unleashes one motivational wing attack after the other. He's fast and furious and his ever-humorous spirit drives the other defenders nuts. The other day he told one affected adversary: What are three FUN goals in a row? A good beginning!
11 fantastic players! 11 fantastic players for your winning team!
Do you know the other winning teams? Meet two more fantastic teams – F.C. Rhetoric and F.C. Charisma!