I take advantage of the momentum and share with you the four steps I follow when writing a book.
Step 1: Find a topic
In my case, this step has been different every time. The Seven Minute Star was inspired by an existing 15-step training presentation I'd already used in my very first seminars. PlusPlus was mere coincidence. Without any plan in mind I had collected hundreds of speech evaluation sheets. One day I looked at them and thought, Hey, wait a minute, these sheets are a harbor of patterns for better communication. One year later PlusPlus went Amazon.
This time with three topics in mind – networking, charisma and motivation – I asked my Facebook group. They took the decision. Motivation won.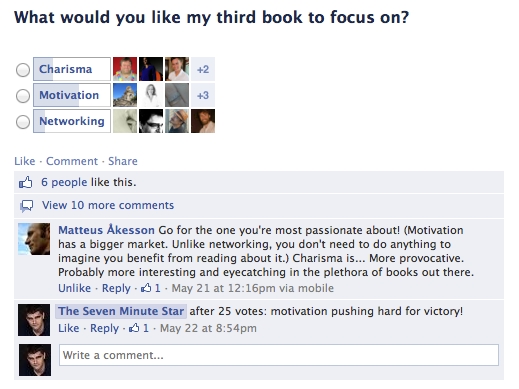 What's your topic? What's your expertise? What's your niche of know-how? Also, what are you passionate about? What are you enthusiastic about? Define a topic or several topics. Ask friends and colleagues about their opinion. Don't be shy!
By the way, if you think you cannot write the 12,435th book on communication, I think you are totally wrong. Only if you copy content, then you'll face a problem. But if you write about your own stories, your own experiences, your own methodologies, your own style, your own exercises, your own unique way – why should you care? The most important target group of your book is yourself.
Now that you have a topic in mind, you're ready for Step 2!
Step 2: Map your mind
Mind mapping is a great way of structuring your thoughts and, while doing so, generating new thoughts and ideas. I've been using mind mapping for years. For me, it's definitely the best brainstorming tool available.
You can either take a piece of paper or you download a mind mapping software at my friends from Softonic.
Here's my mind map for the third book with the working title INTRINSIC: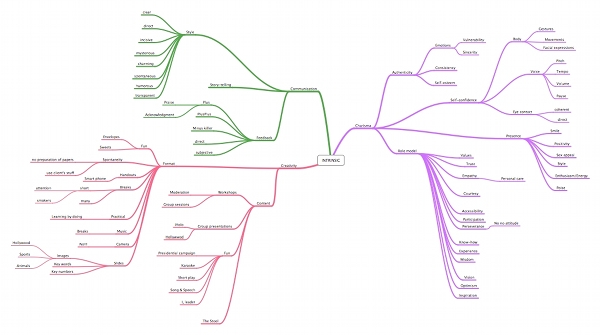 Step 3: Create an outline
In a third step you transfer your mind map into a Word document. Forget about fancy, professional text processing programs. In the end, you'll need a simple and plain Word document for your ebook version anyway. Design for the print version comes later. For now, use Word!
I reckon you structure your chapters and subchapters in a logical and climax-driven order even at this early stage. You can always move stuff around later. But the earlier you think about a dramaturgical structure the better.
Here's my Word outline: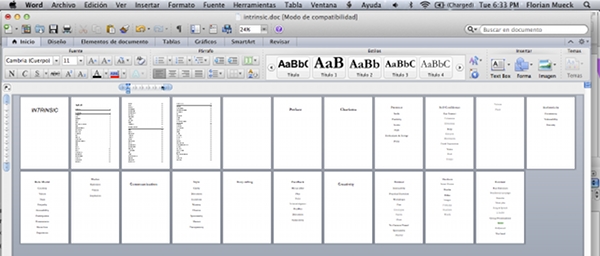 Step 4: Start writing
Now that you have your Word document and your outline you simply start writing. You don't have to follow the outline. I often jump around. An idea here, an idea there. I write on planes, on buses, even in taxis. I write in coffee shops, in university halls or at home. Once you have your outline done you have no excuses!
Important! When writing, always have in mind that once you've finished the draft, the editor takes over. These guys are experts in making your story round, creating smooth transitions and building plots – among others. You don't have to seek perfection; you won't find it.
Good luck with your book!
I'm looking forward to finding it on Amazon!