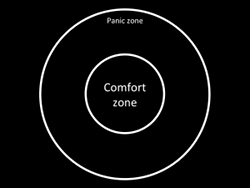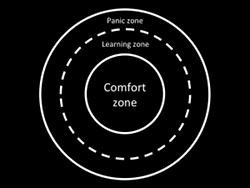 Our comfort zones evolve. They change in size; the radius becomes bigger or, at times, smaller. Yet, for me, another aspect has changed – the definition of the comfort zone concept.
First I liked my friend Conor Neill's way of definition. According to the persuasive communication expert from IESE Business School we do not have to end up in the panic zone when we leave our comfort zone. There is another circle – the learning zone. (See image above.) We grow by entering the learning zone.
Then I stumbled across an internet image, which I fell in love with at first sight. It showed a small circle outside the comfort zone called the "magical zone". I began to use this concept as part of my seminar opening speech: The path from the comfort zone to the magical zone is a valley of darkness, a trail of tears. Is there anyone in this room here who's not willing to swim through the sea of scare? Then now is the moment to say it – there's the door!
A great concept. But the evolution didn't end in the magical zone.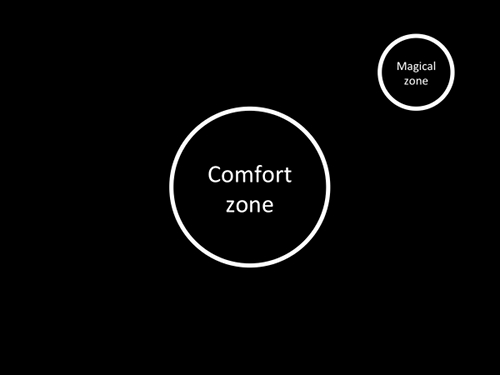 Thomas Borkowski, a two time seminar participant from Düsseldorf, stated something I'd never heard before. He said that, When we leave our comfort zone, we enter a new comfort zone. Wow, so simple and so powerful. Thomas is right. Once you've performed a cheesy nursery rhyme in front of nine colleagues, why should you have problems doing it again? Singing that nursery rhyme you enter a new comfort zone.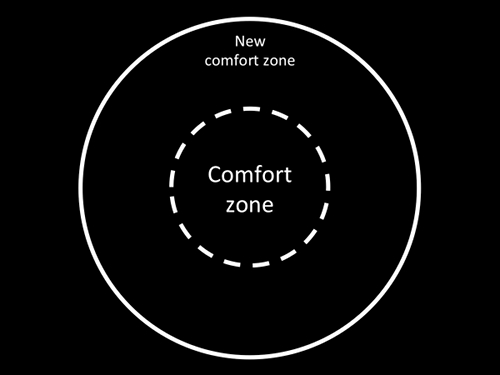 From now on I will use Thomas' definition of the comfort zone concept. Maybe it's the last evolutionary step.
Maybe not.