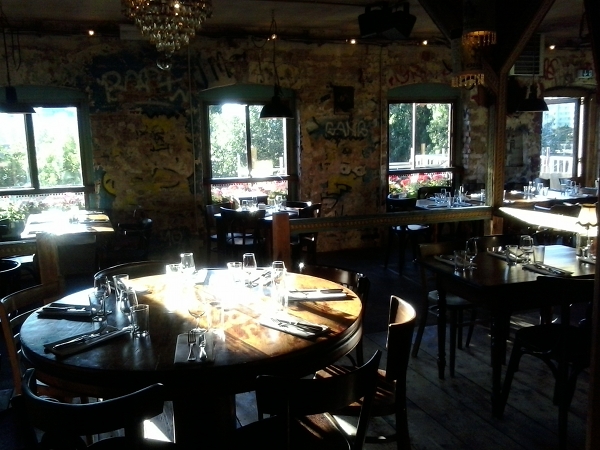 Kater Holzig. Berlin-style. Located in a graffiti covered old warehouse complex right at river Spree, this club-restaurant combo is one of the hippest clubs of Berlin. It's also a place where I learned a big lesson as a professional speaker.
I love entrepreneurs. And I definitely love young entrepreneurs. When the opportunity opened up to speak at a dinner of the Emerging Young Entrepreneurs Society – EYES International – I seized it without hesitation.
The organizers left the speech topic up to me. I chose the title, Is charisma innate?
I arrived at the venue one hour early. Always arrive early! I made friends with the bartender who was controlling drinks, good vibes and the sound system of the restaurant area. Always make friends with bartenders! I checked the "stage" in the rear part of the restaurant. Always check your stage!
Everything looked great. One after another of those young and energetic entrepreneurs arrived. In total we were a group of 30.
My bartender friend organized a light bulb for me, which I was going to use as a visual aid. Then he turned down the volume of the music in our part of the restaurant.
Ready, set. go.
Marek, a 2-meter giant and co-organizer of the Berlin EYES summit, introduced me perfectly – short and sweet.
Stage time.
I began to tell them the story about Sonia from Mexico City, my symbolic proof of the non-existence of an innate charisma. Two minutes gone. I entered the first of five categories of charisma drivers – presence. I'd just stumbled over the part mentioning Danny Devito when a determined waitress showed up and interrupted me.
We'll turn up the volume of the music again! 
She overruled my objection and left.
Now – can you picture the scene? I was in the middle of giving a 15-minute inspirational talk to an international audience and they turn up the music. Quite loud music to be exact.
Whatever, I thought, why had I trained my breathing and voice projection all those years? 
I also turned up my vocal volume.
I'd just passed the third category of charisma drivers – self-confidence – when the same waitress approached me from the left.
We have to cut here, she insisted.
What?? I'm in the middle of a speech! I barked at her with a smile. In the end it was a speech on charisma.
What happened was that a gentleman sitting at a round table just behind us felt annoyed by my performance. He had four ladies with him. Obviously, he had to play the alpha dog card and impress them.
Lydia, another co-organizer of our event talked to them and said: All drinks on us, but this man will finish his speech!
It was a mess!
And what could I do?
I kept my poise, I finished my speech, I didn't give in. As a speaker you can plan a lot, but you'll always face unpredictable situations. When they happen keep your poise, smile; go through your talk till the end with style.
That was my big lesson learned in some extremely uncomfortable trenches.