The best piece of content in public speaking are stories. The best stories are your personal stories. The best personal stories are those which had a high emotional impact on you. And I dare to even go one step further. I say that the real treasures of storytelling are those personal experiences in your life that had a high negative emotional impact on you.
Unfortunately, we tend to burry those treasures of story-telling as deep as we can in the soil of oblivion.
It's time to bring them to light!
A great and simple way to unearth those hurtful truths is the lifeline exercise.
Create your own lifeline in five steps
Print the lifeline template below (click on the image).
Define the age axis according to your own age.
Enter key incidents above or below the age axis, depending on their positive or negative impact.
Connect the dots.
Add short descriptions to the dots with the highest emotional impact. — Done!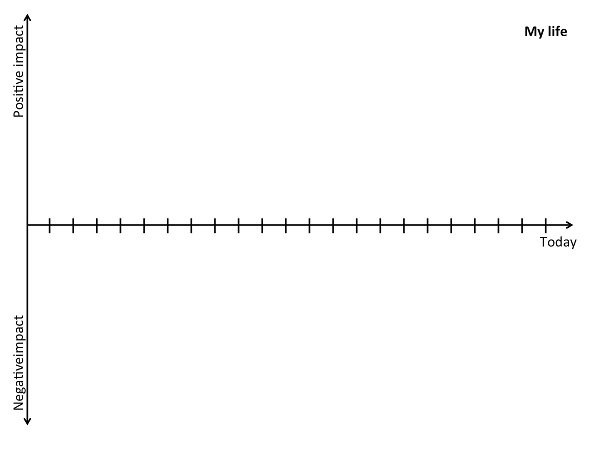 Click for PDF
From my experience, especially, the experiences with a high negative emotional impact make great stories to tell. Those are the most effective manufacturers of goosebumps.
When you put your stories to paper find answers to the following questions.
How did those experiences shape you as a person?
What were the lessons learned?
How can you turn them into fountains of inspiration for others?
To get an idea, here are the five high-negative-emotional-impact-stories of my life:
When I was bullied by my entire football team after I had disrespected the parents of one of my teammates.
When I let down a friend at high school who then died of cancer.
When I found one of my best friends dead on a tree instants after his accident.
When I lost my beloved dad.
When I found myself in a desperate economical period.
Try it out and create your lifeline. For sure, you'll discover great treasures of story-telling.