Dear Friend of Charismatic Communication!
2013 has been another steep climb for me on the mountain of personal and professional growth. Now in the fifth year of training, speaking and writing I'm more convinced than ever that it's not the peak, which is important – it doesn't exist anyway. It's the ascent, the journey. On that journey, I got to know more fantastic companies, met more amazing people, and deepened the connections with those great professionals in my surrounding.
I couldn't fulfill my big dream for 2013 – to give trainings in Asia. But – I made it to the USA hence another dream came true!
Enjoy this summary of all my activities in 2013 plus an outlook on 2014.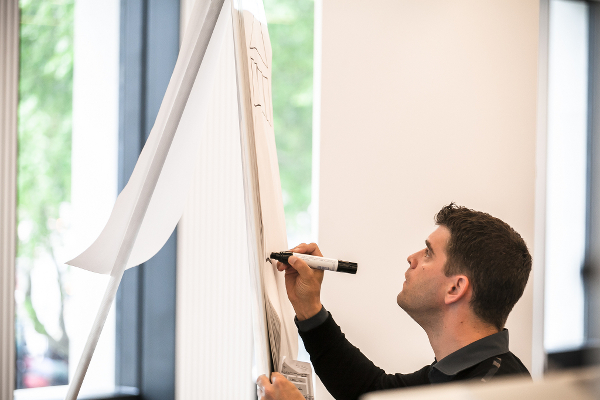 .
1 Inspiring Clients
1.1 Key Clients
I love bofrost*! Not only because the frozen food specialists were one of my top clients in 2013, but because of their great culture and commitment. Those guys love their company. Those guys will stand up and rise in any market environment. An absolute highlight was when a group of seven came down to Barcelona. Never in my life I'll forget that great line of Wolfgang: "I always ask myself, how can people have a burn-out when they've never burnt."
When you're a German and you go to the French speaking Geneva where you lead seminars in Spanish and English – that is when you feel truly European. Since I'm a fanatic supporter of the European idea, I was extremely happy that – after Spain, Germany and Poland – I could add another European country point to my professional map. Santander Private Banking (SPB) asked me to come up with a customized training agenda based on charisma and leadership. Thanks to the super positive echo these three sessions received I was invited to give a keynote speech at SPB's annual leadership summit in Boca Raton, FL, USA, in December. An awesome experience!
One of those companies you've hardly ever heard of. Then you realize, they're a giant. On their website it says, Automatic Data Processing, Inc. (ADP) is one of the largest providers of business processing and cloud-based solutions – including payroll, talent management, human resource management, benefits administration and time and attendance. ADP serves about 620,000 organizations in more than 125 countries, including 425,000 small-business clients and 26,000 vehicle dealerships. Over 80 percent of FORTUNE 500® companies and more than 90 FORTUNE 100 companies use at least one of ADP's services. In 2013, I started to work with several teams based in Barcelona where ADP has a growing presence.
CMS is one of Germany's top law firms. In 2013, I continued to work with their leadership in public speaking and charisma trainings. Unforgettable: With six partners of CMS I spent a fabulous charismatic weekend in Prague, the fairy-tale town. Two days after my 40th birthday, on October 25 2013, I was invited to give a keynote speech on motivation to 350 associates. This was an ambiguous experience. Somehow the audience didn't respond to my content and delivery the way I'm used to it. Like I always say, Public speaking is a mountain without a peak.
In 2013, I carried out more trainings with representatives of the Stuttgart-based publishing group. Apart from a number of public speaking trainings, I participated for the second time in their internal Media Manager program.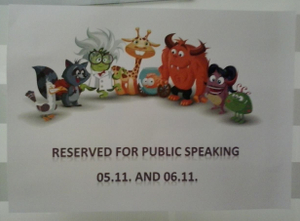 At Wooga I feel like at home. I love spending time in their amazing kitchen, talking to amazing people from more than 35 countries. Wooga has such an amazing culture and they know how to maintain it. This year we continued to train diverse groups in public speaking. We also added a follow-up day on charisma. Wooga rocks!
1.2 New clients
I want to say a big THANK YOU to my new friends from Chupa Chups, Junicon and King.com.
1.3 Business Schools
In 2013, I continued to work with Prof. Conor Neill of IESE, one of the leading business schools in the world. For the fourth time our collaboration included an unforgettable Executive MBA Intensive Week in Barcelona in October.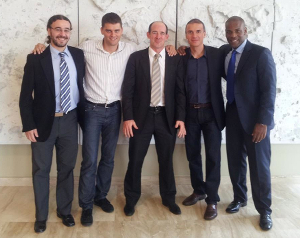 135 executives, mainly from Madrid. 3 theoretical and 5 practical sessions for all participants. 9 subgroups. Like every year a logistical super challenge. This year we continued to professionalize the team of facilitators. Apart from Conor and me, we had Tobias Rodrigues, Tony Anagor and John Zimmer on board.
Like in 2012 I also worked for IESE's top program, the Global Executive MBA.
Steinbeis School of Management + Innovation
In June, I was invited to do a 4-hour special for a group of Alumni of Steinbeis School of Management + Innovation. They got to know me because I usually do my Holtzbrinck seminars in their fancy, Berlin-style venue in Franklinstrasse 15. I met great creative people with a media focus.
1.4 Open Seminars
Normally, I only work with corporate clients on an inhouse basis – apart from seminars organized by Gruenderszene.de. This year, I touched untouched ground twice. In one occasion I was approached by the founder of redeseminare.de who organized two 2-day public speaking seminars with me in Cologne. In another occasion the wife of a participant of one of my Wooga seminars set up a one-day seminar for colleagues and friends in Berlin.
Given their success we'll do another round of Redeseminare in Cologne in October 2014.
.
2 Pro Bono
One of my best and most rewarding experiences ever – both as a trainer and a human being – was to support Aurelie Salvaire and her team with the April 3 2013 edition of TEDxBarcelonaChange. One day before the event I coached all 13 speakers. The next day, more coaching, live event, live streaming, 300 people in the room. I think I was more nervous than my mentees. But no need to be nervous. They all did so well – I was proud of them. In those two days I got to know wonderful people with wonderful projects.
In 2013 I also found a new passion – social entrepreneurs! They are young, they are enthusiastic, they make sense! At a SenseCamp held in Barcelona on April 27 I gave a keynote training on How to sell social good.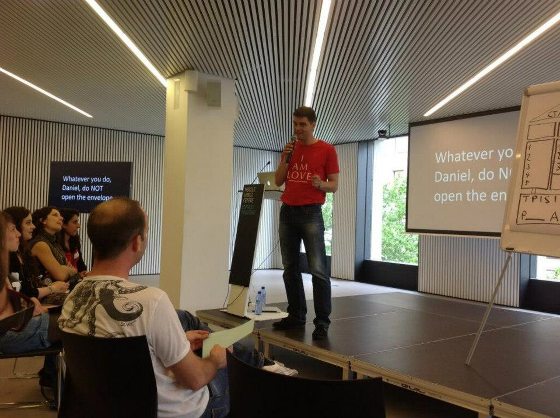 .
After my friend and partner John Zimmer and I had launched the first board game on public speaking in 2012, this year we could distribute almost 200 games to players around the globe. We shipped games from Berlin, Barcelona and Geneva in a highly manual process. RHETORIC feels like building a house. It's a huge effort, but when it's done it feels great. When I stop by with another game to be shipped, my local post office clerk always asks me, So where's it going to this time?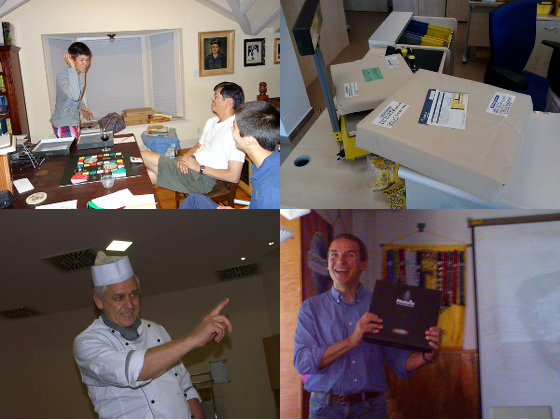 .
4 Innovations
4.1 Diving Into New Perspectives
My friends from Mercure Hotel Neuperlach Sued in Munich had already done two days of public speaking and two days of charisma. But they wanted more… Their manager Roland informed me about their plan to do something around the topic of diving. They wanted to do their training retreat in a hotel which has a diving school attached to it.
These are the challenges I love most – create something new, something that doesn't exist. I came up with the idea to focus on creative communication and called the event Diving Into New Perspectives. For instance, I wrote a short play in three acts – with the third act missing. They had to come up with it, learn their roles, get into the characters and perform the short play after 40 hours. They also had to prepare 20-minute interactive workshops. They also had to speak about a topic they really don't like at all. They had to be 100% creative.
The highlight, of course, was our diving session. I'd never dived before. I also dove into new perspectives!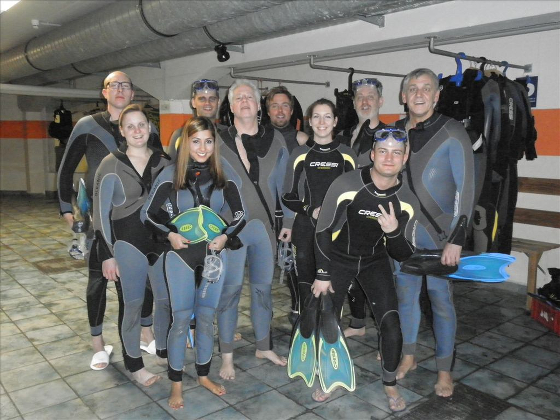 4.2 Educational Videos 
In cooperation with pro speaker and trainer Olivia Schofield, I created a series of educational vids where we share a number of insights, tips and tricks for boosting your communication skills.
4.3 Large Group Workshops
In 2013 I also successfully experimented with large group workshop formats.
In Budapest at our Continental Europe Conference of Toastmasters International, I led a workshop with the title "Kill the meeting – Do workshops!" More than 80 people participated. Here you can see what we could generate in just 40 minutes.
Another workshop entitled "Getting the most out of your finance team" I led at the event Financial Controlling Toolbox, which was organized by EBCG and held in Prague in December. More than 70 finance professionals from all over Europe generated solid content regarding team challenges, leadership and performance.
.
5 Books
By December 19 2013, the book The Seven Minute Star had sold 1,268 times through Amazon and self-distribution. 51 of them were eBooks.
On February 1 2013, my second book PLUSPLUS – Patterns for Better Communication went Amazon. Here you can watch the reading of a sample chapter:
By December 19 2013, PlusPlus had sold 299 times through Amazon and self-distribution. 24 of them were eBooks.
.
6 Spectacular Speaking
In 2013, Olivia Schofield continued to push our Spectacular Speaking Series. This time we went to Antwerp on May 9 2013. Again the feedback was overwhelmingly positive. One thing we can add, according to our participants, is a section of practical speaking rounds.
.
7 Game Changers Barcelona
This summer, my friend, speaker and trainer Tobias Rodrigues came up with a wonderful idea. To organize a training weekend for people who have a positive impact on other people's lives – game changers. In the end, seven intrinsically motivated game changers spent a weekend in the countryside outside to Barcelona. We had so much fun giving milk to young cattle, shoveling horse excrements, cooking together or sitting at the fireplace in the stable listening to buffalo-and-cow stories. But we also learned so much about ourselves and about key factors of human change. Thank you, Tobias, for a fantastic idea! To be continued.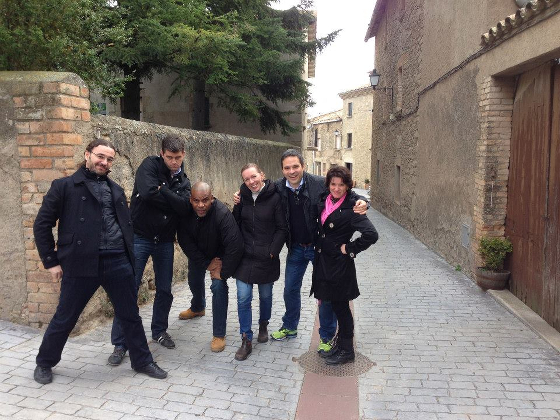 .
8 Outlook 2014
My three main projects for 2014 are:
An online training course
My third book (on motivation)
A digital version of Rhetoric – The Public Speaking Game™
Keep boosting your charisma; it's not innate!
Florian
// Special thanks to you, Rose, for bearing all my trips abroad and my endless conversations about good communication!