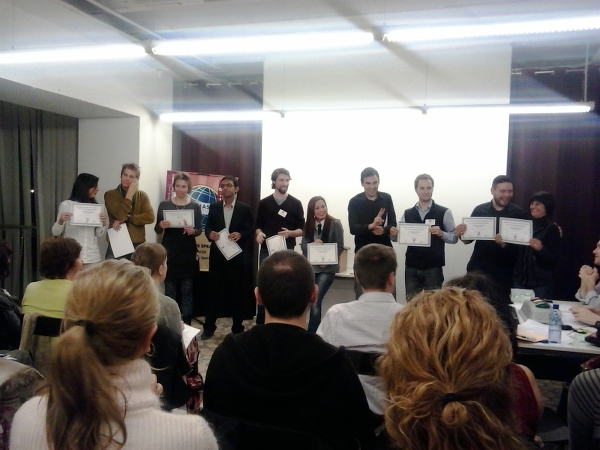 On November 1 2005, I joined Toastmasters International. My club, Prestigious Speakers Barcelona. Joining Toastmasters was one of the best and most important decisions in my life. Toastmasters has given me so much, so many wonderful moments. But January 21 2014 topped it all…
Reflecting on a soon-to-be decade of Toastmastering, what are the six factors that I love most about this globally local public speaking club?
Fun
You can watch movies with Ben Stiller, enjoy stand-up comedy with Jerry Seinfeld, hang out with your best friends in your regular pub or attend Toastmasters meetings. We laugh so much; we have so much fun. Toastmasters is FUN!
Knowledge
In every Toastmasters meeting we hear different speeches on different subjects. From orange festivals in Tampa Bay to why we should only buy eggs in the European Union with the numbers 0 or 1 stamped on the egg. Toastmasters is like a living Wikipedia. You learn new things in every meeting. Toastmasters is KNOWLEDGE!
Leadership
Toastmasters International changed its tagline to "Where Leaders are Made". For a reason. You can occupy several leadership positions on a club, area, national and regional level. From PR to treasury, from education to Presidency. Toastmasters is LEADERSHIP!
Self-confidence
I've seen so many of them. Gray wallflowers turning into shining roses. Introverts turning into vocal thunderstorms. Mute bodies turning into Benjamin Zanders. At Toastmasters you learn how to believe in yourself.  You look people into their eyes when you speak with them. You make your body speak with open gestures. You speak up with vocal variety. In one word, Toastmasters is SELF-CONFIDENCE!
Communication
There's a great saying: Whether it's one person or a thousand, it's always public speaking. At Toastmasters you learn how to inform in more exciting ways. You learn how to be more entertaining. You learn how to persuade people with power. And you learn how to inspire your audience. You become a great public speaker and a more powerful communicator in general. Toastmasters is COMMUNICATION!
Friendship
But all this was topped on January 21 2014. In 2013, we'd lost one of our dearest members – Carol Ann Baughman. Carol Ann was so incredibly positive, she even called her cancer an explosion of light and love. The club committee had the idea to launch a club internal speech competition – the Carol Ann Baughman Award. On January 21 2014, we celebrated the first edition. 10 speakers competed. Those 10 speakers in the photo above created wonderful speeches around Carol Ann's favorite topic well-being. Those 10 speakers invested time and effort and passion in order to honor our dear friend. It was, by far, the most emotional meeting ever. Unforgettable. Toastmasters is much more than a place where speakers are made. Toastmasters is much more than a platform where leaders are made. Toastmasters is FRIENDSHP!