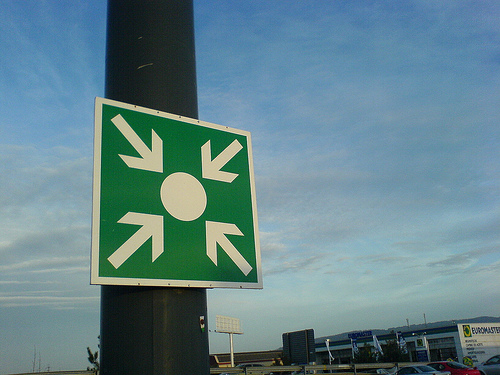 Senioscopia! via Compfight cc
Krakow is one of the most beautiful cities I know. I was very happy to hear that our continental European conference of Toastmasters International would be held in the home of architectural beauty and Oskar Schindler.
A coffee break, the noise of multicultural chitchat in the air. Leaning against a cocktail table I talk to Åsa Rydhard from Sweden. Åsa is an expert in turning the written business bla bla bla into stories that travel from catastrophes to miracles.
At one point of our conversation, Åsa says, We have to create stories where you and your audience meet.
I think, Hey wait, stories where my audience and I meet. How cool is that?
I loved the concept at first sight. But then… How can we meet the audience in our stories? Our stories happened in the past. Our stories happened to us, and only to us. An audience cannot walk around in our stories. Or, can they?
Let's imagine
As a speaker we should never tell fictitious stories. Fictitious and false stories will never reach the level of authenticity a true and personal story conveys.
But – you can be creative and play around with the imagination of your audience. The conflict and change expert Tobias Rodrigues says, Imagination is one of the five elements of pathos. With imagination you can trigger emotions in your audience.
So – let's imagine. I see two options of imagination.
Half imagination
Here you tell your own personal story and add the audience in an imaginary way.
Silence. Suspense. Sobbing. 38 teenagers. We gather in the synagogue on the Dachau concentration camp site. Two Israeli girls hold some musical notes in front of me. Eli, Eli, the Holocaust mourning song. I start to play the clarinet. A choir of tears fills the room with humanity. 
Imagine you'd been there. There you are, standing in the corner. I see you. I see a tear as it slides down your cheek. Do you feel the goose bumps? Do you feel the most emotional moment of my life? The song ends. It's hot outside.
Full imagination
Here you tell a completely imaginary story where you and the audience meet.
Imagine… You're strolling down the seafront of Barcelona – the blue Mediterranean in front of you. In the distance you hear the strident screams of a seagull. It smells like heat.
You're passing Barceloneta, the picturesque fishermen's quarter. You turn left and reach your destination. Numerous scooters are bathing in the sun in front of a garage-style shop. While you're stepping into the cooling shadow of the five-storied white building, a friendly man wearing fashionable eyeglasses greets you with an enthusiastic smile. I'm standing next to him. Before Timo, the founder of Cooltra Motos, can say something, I shoot. 'Take one, they're the best rental scooters in town.' Your face changes from reluctant to curious. 
Social proof is one of Robert Cialdini's six factors of influence. …
Three benefits
Both ways work for me. By triggering the imagination of your audience and meeting them in their minds, you should achieve three benefits:
Your point becomes much more tangible hence stronger.
You set emotions free.
You positively influence your trustworthiness.
It's not a proven concept, yet, but I'm convinced it works well. In the future, I will play around with this concept. I'll keep you posted on my lessons learned.
When Åsa Rydhard from Sweden had said that we'd have to create stories where our audience and we meet, I told her, This conference has paid already! Thank you, Åsa.