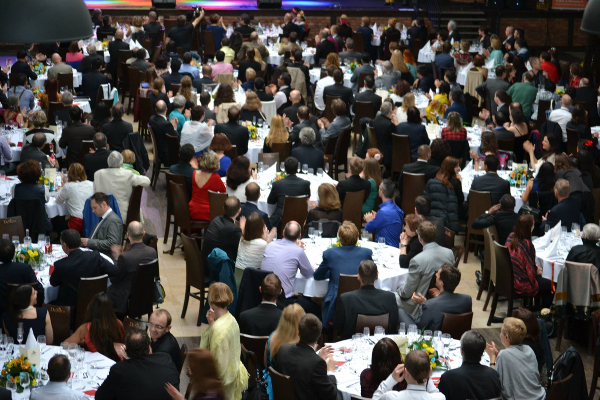 © Călin Gîlea
From May 16 to 18, 2014, I attended another spectacular Toastmasters International District Conference. Following the motto 'Challenge the Dragon', Krakow was our last joint conference as one integrated continental European District 59. We could almost see, smell, touch, taste and hear the palpable melancholy.
I joined my first Toastmasters District Conference in Nuremberg in 2006. Barcelona, The Hague, Basel, Poznan, Bonn, Antwerp, Budapest and Krakow followed. Every time I went, I learned so much. From the speakers, in the workshops, in the hallway, bar and party conversations. As a professional speaker and trainer, Toastmasters District Conferences are one of my most important R&D departments.
Below, I share with you some of the phrases that made me think during the weekend.
From barriers to goldfish, from aura to values
[The prospects] gotta have skin in the game. – Jack Vincent. An American football expression. Sales guru Jack Vincent uses it as an analogy to explain that our prospects need to be involved in the sales process. After each interaction the prospect should leave behind some "skin in the game".
Create stories where you and your audience meet. – Åsa Rydhard
KFC – Know your audience. Face your fears. Connect with the audience. – Judy Challiner
The AURA effect – authenticity, understanding, retention, action. – Sebastian Lora
A goldfish can pay [100%] attention to something for nine seconds, a human being for eight. – Sebastian Lora
No attention, no action. – Sebastian Lora
Attention is volatile. – Sebastian Lora
Attention is the audience's most valuable commodity. – Sebastian Lora
Don't leave them [the audience] on a downer. – Jock Elliot, 2011 World Champion of Public Speaking
We swapped lies about business. I told better lies. He was depressed. – Jock Elliot. A great example of self-deprecating humor. 450 people roared with laughter.
Everything [including the clothes you wear] is part of the show. – Jock Elliot
It failed because it worked. – Jock Elliot
Where there is no substance, there is no point. – Jock Elliot
The audience doesn't judge; the judges judge. – Jock Elliot. OK, this IS a Toastmasters specific issue… 😉
I don't want to change people's lives, but I want to make them think. – Jock Elliot
Blood is thicker than water, and no one is thicker than my brother. – Jock Elliot. Again, great use of self, or in this case brother-deprecating humor combined with the pattern of humor "exaggeration".
What matters to you may not matter to the audience. – Jock Elliot
Among those many I want to put [a person] into the center of attention. – Mark Alder
And I face a very obvious barrier myself… my dialect. – Alexander Lang. One of the best uses of the pattern of humor "unexpected" I've ever heard. You have to know, of course, that my friend Alex has a muscle disease and sits in a wheel chair.
Without barriers we live better. – Alexander Lang
A rejection is nothing but an illusion. – Unknown
People make decisions based on values. – Patrick Nini