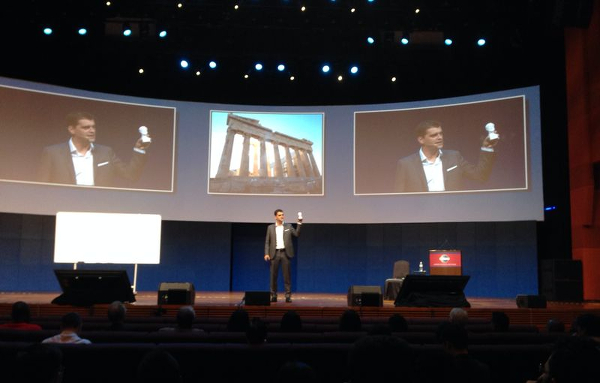 From 20-23 August 2014, I attended the Annual Convention of Toastmasters International in Kuala Lumpur, Malaysia. For the first time in its 90-year history, the global organization chose an event location outside North America. And it turned out to be a fabulous decision.
More than 2,500 attendees from all over the world created a special atmosphere of belonging. The feeling of belonging to a truly global community. But for me, this event was even more special. Toastmasters International had chosen me to be one of seven featured speakers. They invited me to give an educational speech on speech structure.
What an experience! Jana Barnhill, Mark Brown, Douglas Krueger, Lance Miller, Robin Sieger, Rory Vaden – I had the honor to share the stage with several heavy weights of the scene.
The Plenary Hall of the KL Convention Center is a speaker's dream. Gigantic multiple projections with speaker close-ups, a state-of-the-art audio system and a super professional tech team created a super professional framework. In my one-hour slot, I faced a wall of 1,000 faces. Humor, flow and interaction worked well. The feedback was great. But after the speech I definitely needed a beer.
Countless cross-cultural conversations, inspiration everywhere, and the World Championship of Public Speaking – Kuala Lumpur was diverse, enriching, unforgettable.
Terima kasih, Toastmasters! Thank you, Toastmasters!
Here are some memorable phrases I picked up during the convention.
Toastmasters – a great place to fail. — Lance Miller
The most confident people in the world are… 4-year-olds. — Robin Sieger
We're all on stage; we're all on air every day. — Rohana Rozhan, 2014 Golden Gavel recipient
You don't have to be a manager, leader, CEO to make that everyday difference. — Rohana Rozhan
If you want to lead one day, you have to lead every day. — Rohana Rozhan
Your message will be your influence. — Mark Brown
Success is not about taking the escalator; success is about taking the stairs. — Rory Vaden
Distraction is a dangerous saboteur of your dreams. — Rory Vaden
Procrastination is a creditor charging interest. — Rory Vaden
A leader's number one job is to establish a vision. — Rory Vaden