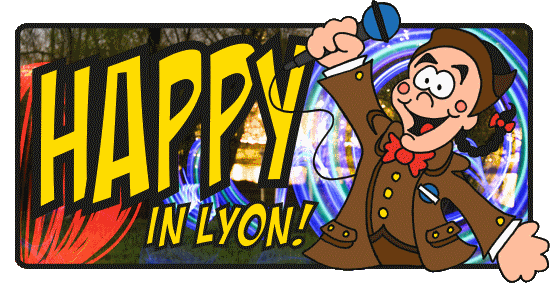 It was, of course, another blast! A blast of learning, insights and inspiration – our Toastmasters District 59 (South Western Europe) Fall Conference in Lyon, France from 21-23 November 2014.
The motto of the three-day conference was "Happy in Lyon" and, yes, happy we were! In the past, I've repeated myself so many times that not even the most hardcore ancient master of rhetoric would accept my extent of repetition. But, what can I do…
To experience how 200 people come together in one fantastic location, all of them hungry for improving themselves and helping others to improve – this is truly amazing. Every time I attend one of these District conferences I feel so much bond, so much friendship, so much mutual understanding that it's hard to touch down on Monday morning reality.
If you're a Toastmaster, and if you live somewhere in a 3,000-mile radius of Porto, Portugal, make sure you save the date and join our Spring Conference there from 15-17 May 2015.
Here's a summary of educational insights and inspiring phrases I collected over the weekend in Lyon. If you attended and have more of them, please feel free to comment below.
Professional Trainers' Group (Agnes Tarnai)
We brainstormed on the prerequisites of a good training. A good training should be… a safe environment, engaging, entertaining, sensorial, inclusive, authentic, free of interruptions, perfectly imperfect, spontaneous, creative and, above all, transformational.
Gabriella Opaz (see below) added that, A training was good when you leave the room with more questions than you had when you entered the room. I love this one!
With regards to the training atmosphere we like Feng Shui (light, room set-up, etc), coziness, fun and laughter, emotions (e.g. playing music/Spotify), introductions at the beginning.
Robert Van der Meer inspired us to incorporate more playfulness in our trainings.
We brainstormed different game categories: Card games, dice, sports, quiz, Lego, role play, music games, building games, board games, Tetris, brain teasers, riddles.
According to Robert "play" is one of the building blocks of our societies.
Four characteristics of "play":
Players are free
Distinct from the ordinary life
Creates order
No material interests
There are two different forms of game:
Ludus – Games with more order and a specific endgame
Paidia – Games with no specific end
For both forms there are four different categories of game play
Agôn – competitive
Alea – Dice, games of chance
Mimicry – Imitate someone
Ilinx – Desorientation of senses
Workshop: Storytelling with Soul (Gabriella Opaz)
Awareness makes a speech interesting.
You're taught to be in your head. But how can you tell a story, if you're not in their body?
Senses are individual; feelings are global.
It's hard to let people inside you.
Pick a sense a day!
There's no template for storytelling; it's your story.
Tell what you need to say, not what you think they need to hear.
Workshop: The Dance of Leadership (Evgueni Talal)
A lesson learned from tango: Always focus on the next immediate step.
In tango every follower is a secret leader.
People will forgive you for being different and taking a risk. People will never forgive you for being mediocre.
I took a brave decision; I had to listen to myself.
Listen to your own voice; find your own unique voice.
We can only speak with our own voice.
Embrace your unique voice.
He was undershowered.
Damage is a springboard to a high personal growth.
Look at your weaknesses to find your strengths.
Presentations don't exercise personal growth. You do.
Mediocrity is not an option; follow your own path!
Workshop: The Communication CODE (Lars Sudmann)
Tools, not rules, make us better in communication.
TLA – three letter acronym.
We have four different ears – fact ear, you-should-ear, relation ear, revelation ear.
Know which ear you're listening with.
The toothpaste principle – once it's out, it's very hard to get it back in.
Win-win or no deal. — Stephen Covey
Helicopter first, details later.
Who of you does self-talk? (Pause) Those of you who didn't raise your hands thought to yourselves, I don't do self-talk.
The person who has the WHY can bear almost any HOW.
Speech: Be, Do, Have – Find the Leader in You (George Yen)
The three C of leadership – communicate, connect, collaborate.
Many leaders fail to recognize.
Integrity will serve you well in all aspects of life.
Leadership is the ability to influence others.
Leadership is all about the others. From ME to WE.
Leadership will find you sooner or later.
A leadership circle – BE, DO, HAVE.
You're never ready for a leadership role.
Servant leadership leads to flatter hierarchies and more empowerment.
The endgame is no bosses.
The power of attention, recognition and listening.
Leadership is about nurturing the personal growth. Personal growth comes with empowerment.
Leadership is not about being right; it's about getting things done.
The key to success in anything is ownership.
Tapping into the group wisdom.
Without trust (meetings are) a waste of time.
Nobody has a monopoly of ideas.
Mentors see something in you.