Dear Friend of Charismatic Communication!
What a year… First of all, I want to say a big thank you to all my super clients, my super mentors, my super partners, my super fellow Toastmasters and my super Rose! You all made 2014 another best year of my life. Thank you, my friends!
On the professional side it's been a fantastic year. I could moderate 1,155 speech evaluations, start to enter the keynote speech arena, see people grow in eight countries, welcome ten new clients and continue to deepen my existing relationships with charisma boosting fans all over Europe. The absolute highlight, for me, was my keynote training speech at the International Convention of Toastmasters International in Kuala Lumpur, Malaysia.
And, on top of all that, John Zimmer and I, have thrown all our passion into the second edition of RHETORIC, which will be available in the early months of 2015.
Enjoy this summary of my principal activities in 2014 plus an outlook on 2015.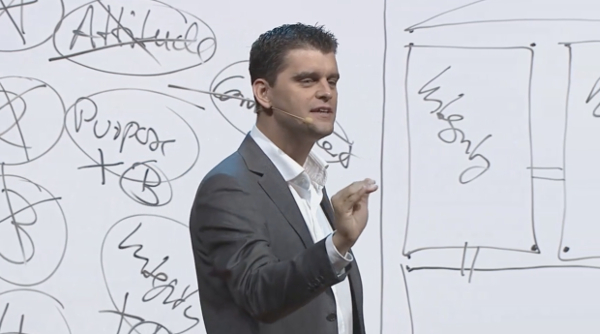 Corporate trainings
81% of my professional activities in 2014 were corporate trainings. 89 training days in Germany, Spain, Switzerland, Romania and the UK.
My top 10 charisma boosters were…
The Candy Crushers
Barcelona, Bucharest, London – and everywhere the same in 2014. Brilliant minds creating brilliant games. King is not about games. King is about creating smiles.
The Publishers
A recurring client since 2010, Holtzbrinck Publishing Group based in Stuttgart enriches my logos with a multitude of business models – good questions, SEO, opinion leading papers, novels, magazines, … they've got it all!
The Frozen Food Family
Yep, they're like a family. 17 years, 35 years, 24 years – when I ask them about their professional careers at bofrost*, the answers are almost always two-digit. You cannot buy a corporate culture at Lidl. Bofrost* is culture.
The Payroll Guys
Once you get to know the streamlining pros of ADP you know they're playing in a very special league. What I admire most about them is their promotion of women leadership.
The Experience Traders
I cannot name them. But those crazy guys from Munich have conquered a big portion of my heart. It's not people who work at ***; characters do!
The English Teachers
Have you ever been on morphine? One of the most memorable first sentences ever. For the first time in 2014, I worked with Wall Street English. Thank you, Nina, for this giant of speech opening!
The Private Bankers
I continued to elevate the charisma level of team members of Geneva-based Santander Private Banking. Groups in Spanish, groups in English – charisma knows no language.
The Cradle of Growth

Another year in paradise at IESE Business School. For five years now, I've collaborated with the one and only Conor Neill. This year, I helped two internal teams to add more Power to their Point. We also boosted the communication skills of their Global Executive MBAs. And, once again an absolute highlight, we spent an entire week in Barcelona with more than 100 Executive MBAs from Madrid. We, that is Conor Neill, Tony Anagor, Tobias Rodrigues and John Zimmer.
The Jelly Splashers
Another year on the personal growth side of Berlin-based Wooga. Rumors told me that the feedback approach of Plus and PlusPlus has already become part of their corporate DNA. Great!
The Big Data Specialists
A new star on the Berlin start-up sky. In the near future, we'll hear a lot more about Jan Becker's incubator Hitfox Group. Why? Because they focus on big data. And big data is the new oil.
The Electronics Giant
Finally, for me as a freelancer, it was a special honor to start working with one of the biggest companies in the world – Panasonic. 有り難うございます.
Open trainings
On 5 September 2009, I gave my first professional public speaking training in Berlin in cooperation with the online magazine Gruenderszene. Ever since, I've been part of their seminar program. My session is called Der Perfekte Pitch – the perfect pitch. In 2014, I gave three open one-day trainings.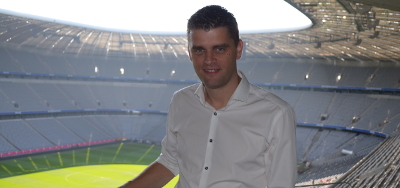 This year, I've also started to collaborate with the Munich-based employee retention experts of ReTenCon. As part of their corporate academy program I could lead two trainings in the spectacular Allianz Arena. The venue always plays an important role in trainings. Imagine preparing your speeches sitting in front of a VIP lounge looking at an empty shrine of modern football stadiums. A unique experience!
I'm looking forward to more open trainings with ReTenCon in Munich and Cologne in 2015.
Keynote speeches
In 2014, my professional speaking activities began to expand. I never climbed the Mount Everest. I never beat Usain Bolt in a 100 meter race. For us normal people, it's harder to get an event slot as a keynote speaker. It takes time to plant the seed of speech topics in the market.
In 2014, I had six professional speaking engagements.
Turning Small Talk into Big Talk
I was invited to speak at the annual meeting of the Portugal-Spain region of Advantage Austria. I chose this customized topic given the importance of networking at my client's event.
The Seven Minute Star
For the Accountants Group in Germany, AGiG, I flew to Stuttgart. And what a fantastic time I had! First at the Cannstatter Wasen. Then, on day two, during the 15 steps that helped those 50+ accountants become even better speakers.
PlusPlus Feeedback – A Vitamin Boost for Personal Growth
For my new partners, ReTenCon in Munich, I joined a line-up of HR experts. More than 100 HR executives loved to see me bite into a lemon. PlusPlus feedback is my signature topic and it will be my signature keynote speech topic in the future.
The Art of Persuasion
HLB International is an international network of independent professional accounting firms and business advisors, comprising member firms in 130 countries. They hired me for their annual conference in Barcelona. CEO Rob Tautges confirms that, Florian struck a very important chord at our international conference this year. Accountants have great messages to deliver and simply need the confidence, enthusiasm and comfort being slightly outrageous to make a difference through informing, motivating and entertaining our audience.
The BMW of Aristotle – Myths and Merits of Communication
Allianz Group invited me to speak at their Global Automotive conference in Munich. It was a joint meeting with executives from BMW. Therefore, I created a customized speech.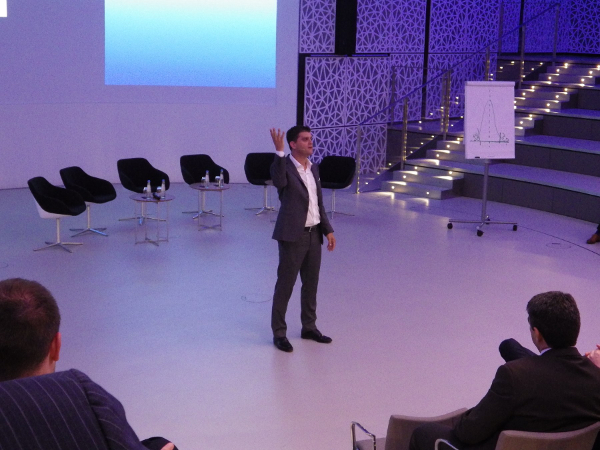 The Speech Structure Building™
For me, the emotional highlight of 2014 was the International Convention of Toastmasters International in Kuala Lumpur, Malaysia. For the first time in its 90 years of history, Toastmasters' leadership decided to go beyond the North Americas. More than 2,500 Toastmasters from all around the globe followed the call. On August 21, as one of six featured international speakers, I gave my keynote training speech on speech structuring. Looking into all these global, open-minded faces – I'll never forget this moment.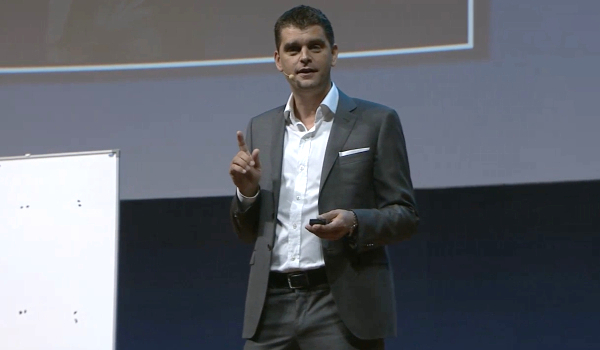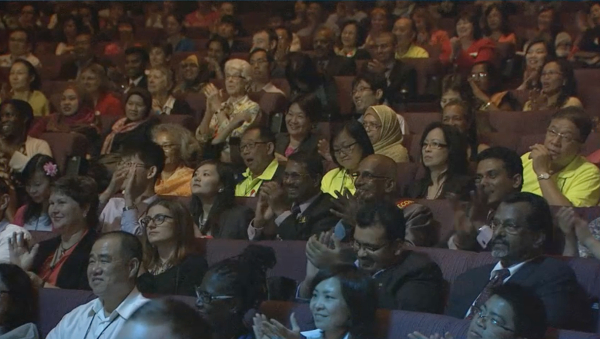 Rhetoric – The Public Speaking Game™
In 2014, my RHETORIC partner John Zimmer and I ran out of stock. Two hundred volumes of the prototype series of this first public speaking board game of the world – gone with the global rhetorical wind.
Beginning of March, John came down to Barcelona. We reflected on all positive and constructive comments we'd received since the launch of the game in December 2012. Based on the feedback and our own experience, we redesigned the game play. Today, nine months later, the production process of the second edition is ready, set, …. We expect the go for January.
The new edition will change its outside look (see image below). And it will feature, among other innovations, a Circle of Content. The latter will add educational impact to the already highly entertaining game.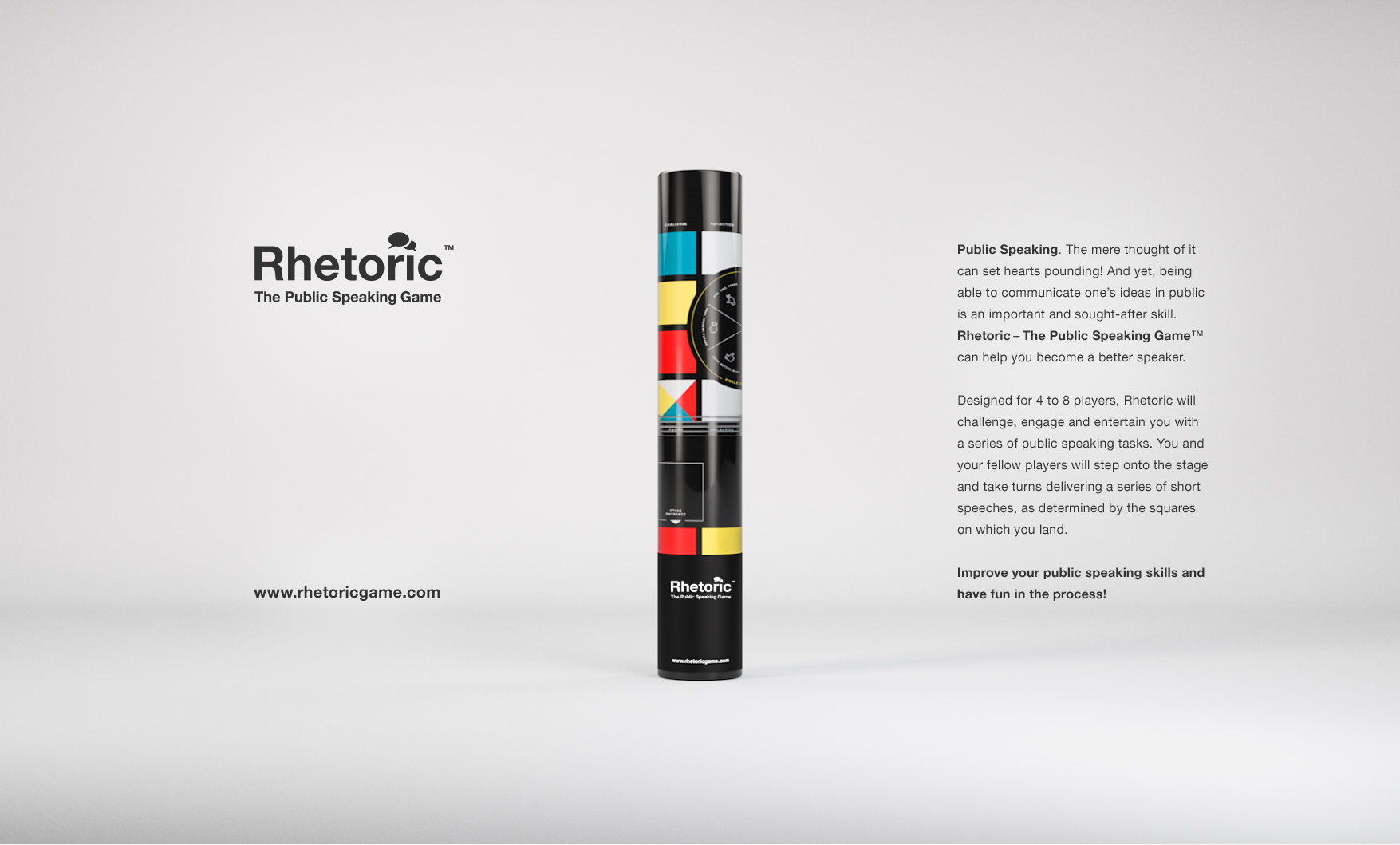 Spectacular Speaking 2014
Warsaw, March 2014. For the fourth time, Olivia Schofield called upon her boys to spend with her two days of public speaking super climax. We boosted the public speaking skills of more than 40, mainly Polish participants.
In 2015, I'll be co-hosting Spectacular Speaking Barcelona together with Tobias Rodrigues. Don't miss it – Spectacular Speaking is just mind-blowing.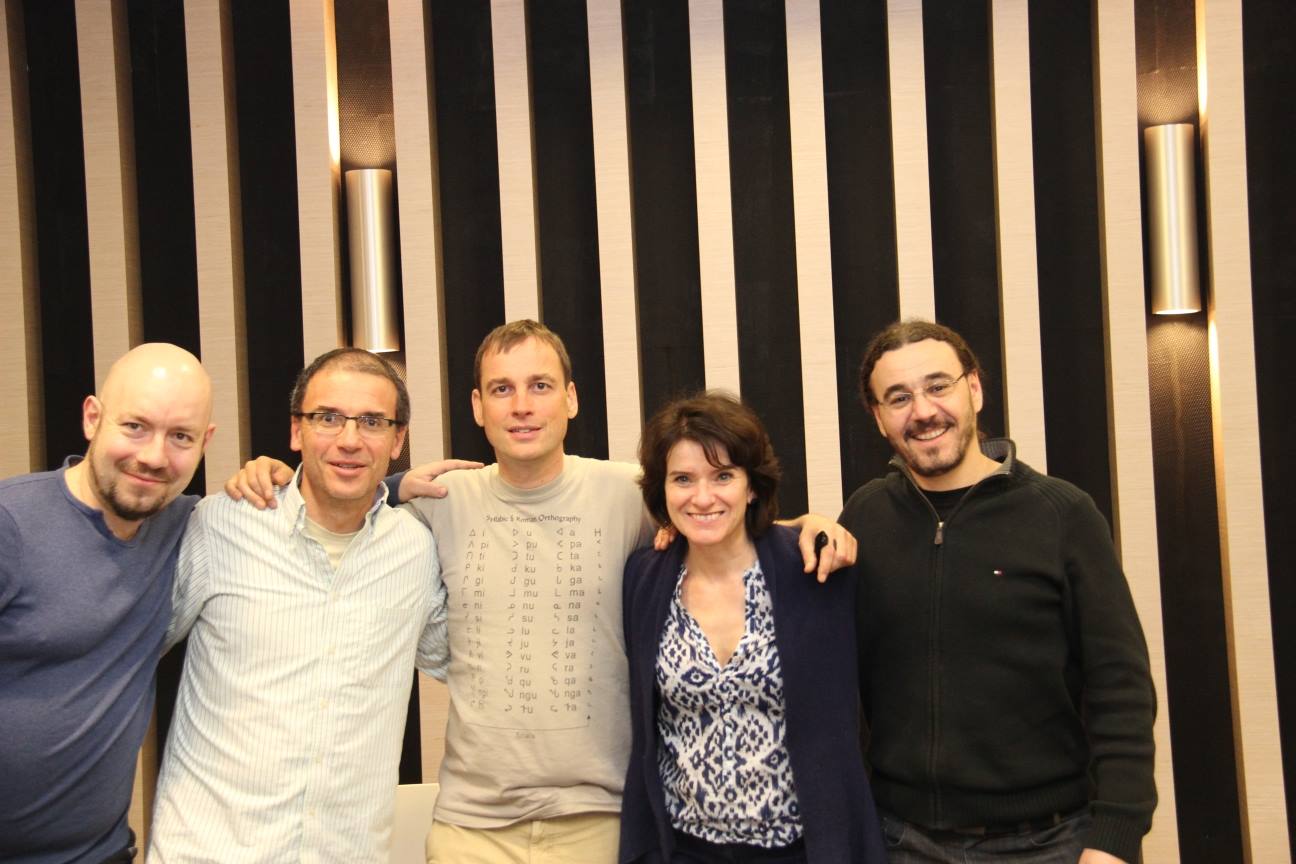 Game Changers Barcelona
From 4-6 April 2014, Tobias Rodrigues, Tony Anagor and I organized the second edition of Game Changers Barcelona. Three days of growing and learning and crying and cheering with brilliant minds from different angles of life. A priceless experience.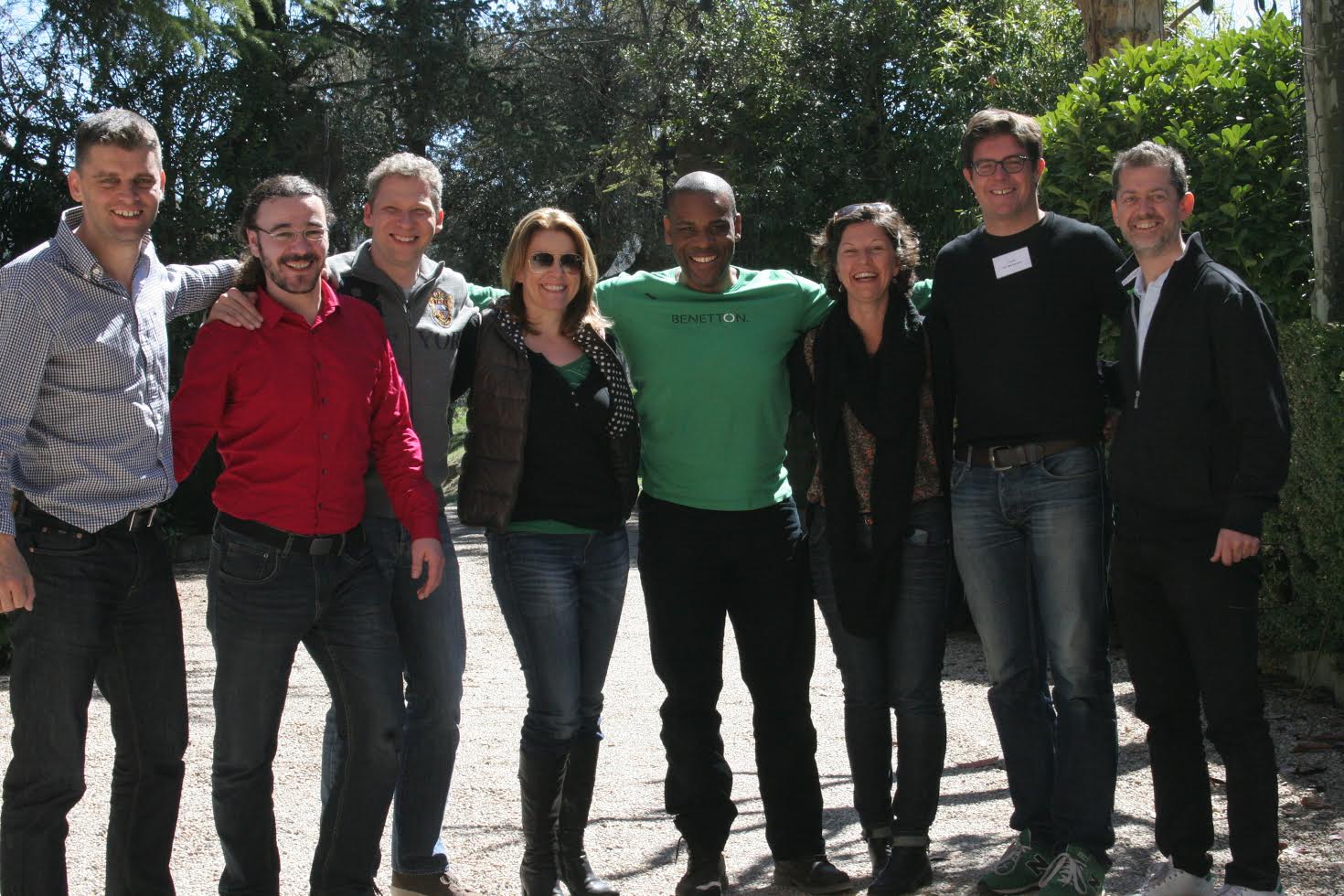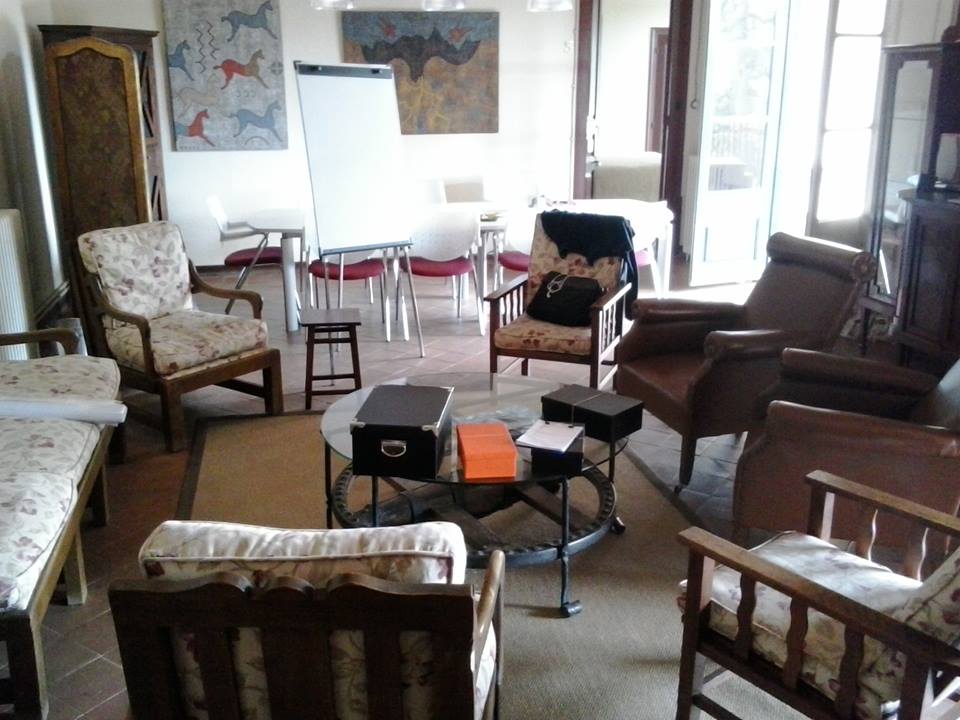 Toastmasters International
Apart form the International Convention, this year I was active at two District Conferences.
Krakow in May was a highly emotional event. It was our last joint conference as District 59 (Continental Europe). I've made many friends since I attended my first District Conference in Nuremberg in 2006. And the splitting into two new districts – North-East Europe and South-West Europe – created a unique atmosphere of happy melancholy.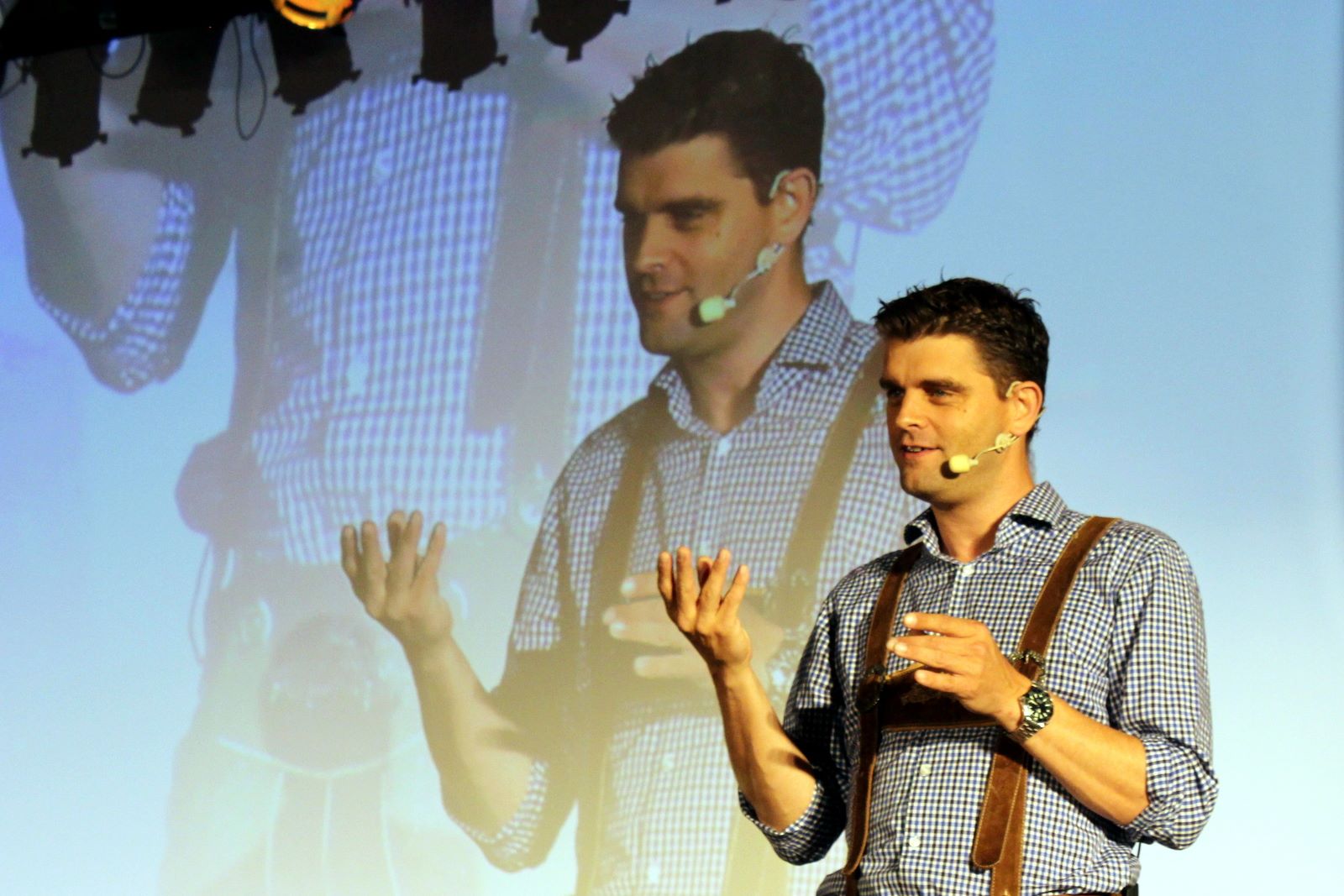 I was invited to host the evaluation contest finals. A great honor given the target speaker I had to interview – Jock Elliott, 2011 World Champion of Public Speaking.
At the Fall Conference in Lyon in November, I gave a workshop on The Triangle of Coherence.
Outlook 2015
I've always been an idealist. I don't know exactly where I'm going, but I'm on my way. Nevertheless, I want to push forward six projects in 2015.
RHETORIC
With the second edition almost at hand, John and I will promote the game throughout the year. It's more than probable that we'll also start to work on an app.
Book #3
70% is done. But the last mile is the hardest. My third book after The Seven Minute Star and Plus Plus will focus on transformational leadership.
Spectacular Speaking Barcelona 2015
See you at Spectacular Speaking Barcelona!
Game Changers Barcelona
We've done it twice. It April 2015 comes the third round. This format is special. It deserves more global reach to global game changers.
The Origin
Based on five years of experience with large group personal growth boosting, I'm going to help my friend Conor Neill to create and market The Origin program.
School of Rhetoric
It's been my vision for a while now. In 2015, I'll take the first steps into the right direction. My vision is to establish a School of Rhetoric in Barcelona.
Stay tuned and keep boosting your charisma!
Thank you all for your support – you rock!
Florian