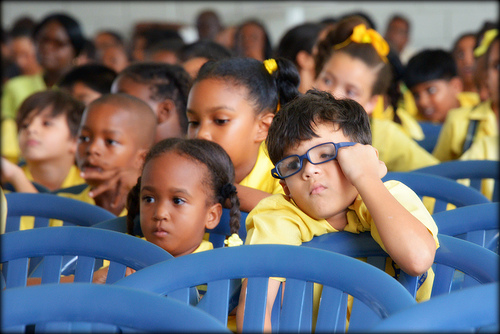 *Amanda Richards via Compfight cc
To date, I've experienced more than 4,000 three to five-minute speeches in my trainings. Speeches about life, speeches about business, motivational speeches, inspirational speeches, emotional speeches. I detected patterns for improvement; I detected patterns of rhetorical gold.
One thing I struggle with is that I easily get bored because too many speeches lack energy, excitement, emotion. When I sit in the audience, I don't want to get bored. I don't want to waste my time. I want to get energized. I want to get excited. I want to get touched emotionally.
100% content, 0% boredom – that should be your predominant goal as a public speaker!
100% content is a must. Structure, rhetorical devices, depth, quotes, wisdom, lessons learned – all of them are prerequisites for a great speech. But I also demand 0% boredom.
How can you avoid death by speaking? Here are five content and delivery patterns that make a huge difference.
Screen slides
When you create one slide deck, handout-style, where PowerPoint equals Word – that is not only death by speaking, but also death by PowerPoint. Boring! But every time I see screen slides in action – no corporate handout templates, but beautiful full-screen images, gigantic buzzwords, intriguing numbers, Mark Twains and their quotes, graphical flowcharts – those keep my attention alive.
Humor
Laughter is poison for boredom. Make your audience laugh by using patterns of humor. Like the expected/expected/unexpected trait: Australia is a dangerous country. There are snakes, there are sharks, there are beer drinking Australian men. Or, Germans are punctual, Germans are efficient, Germans are alcoholics. The latter is combined with another pattern – self-deprecation (if I say it being a German). Make fun of yourself, use irony, understatement, have fun with the alpha dogs in your audience. Humor is pattern, laughter its result. A laughing audience is never bored.
Metaphor
Metaphors compare one thing with another. They trigger emotions thanks to our visual imagination. A young chap in one of my trainings in Munich spoke about his childhood using the metaphor of a castle.
When I was a child I loved building castles. I loved my castle so much that I didn't want anyone to enter my castle. I kept building my walls. Higher and higher and higher. In the end I was sitting all alone in my castle. I was happy for a while. But then I realized that…
When he began to speak we thought of Playmobil. When he continued we got goose bumps. When he finished we had tears in the eyes. That's the power of a metaphor. No one was bored in that room on a cold January morning.
Vulnerability
Superficiality is lame. Perfection is dull. Perfect superficiality is beyond boredom. Stage time for inexperienced speakers means mask time. They carry a mask of perfect superficiality. Experienced speakers know that public speaking is all about connection. They've understood that masks of perfect superficiality will never connect with other humans. Human depth connects with other humans. Vulnerability connects with other humans. As soon as speakers start to share scratches on their ego, failures and weaknesses, mistakes in life and valuable lessons learned, things they regret or that they're not proud of, boredom is over. Connection is the antagonist of boredom; vulnerability is connection.
Energy
I know it already before you start to verbalize. The way you enter the stage is enough. Your body speaks much more than you think. And then your first words. No intonation, no power, no energy – game over. Boring! For me, the number one fertilizer of boredom is powerlessness. No tension in your arms, no tension in your hands, no vocal variety, no musicality, no intonation, no powerful pausing – it's a complete waste of time. No one will ever listen to you. They think of their kid's birthday party, their after work beer, their date later that day. No energy in public speaking equals a bored audience. Be much more energetic on stage!
Screen slides, humor, metaphors, vulnerability, energy (and we didn't even talk about stories) – next time you stand up and speak in public, make it your new goal – 100% content, 0% boredom!