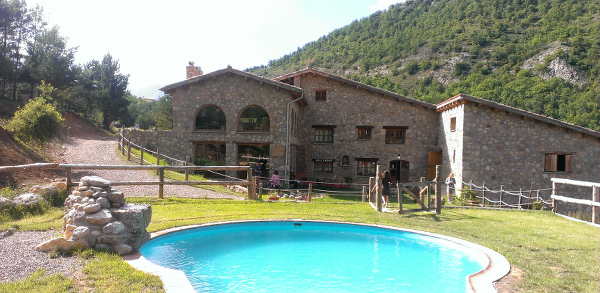 It was, by far, one of the best weekends of my life. I'll never forget how we danced with the angels from June 19 to 21 2015. And we literally danced with the angels in our amazing venue Racó dels Angels. Water, Air, Love – our rooms had the names of angels. Angel figurines everywhere. Angel-like hosts Rosa María and her family.
And us. In the shadows of sleepy mountains and friendly horses, 29 members and friends of our Toastmasters club Prestigious Speakers Barcelona found, above all, tons of inspiration. It was a pleasure and honor to co-organize this holy get-together with the one and only Evgueni Talal. We could count on several fantastic workshop facilitators, among them our keynote trainer John Zimmer. John brought along his wife Julie and she rocked!
So – how much inspiration did we breathe in?
The Trailer
After everyone had dropped the luggage, checked in, chose an envelope, had a welcome drink and hugged and kissed 28 people, we kicked off our event with the slogan, Welcome to Hollywood!
In their envelopes our participants had found their badge. The upper part of the front showed one of six movie images – Lord of the Rings, Back to the Future, Forrest Gump, Pulp Fiction, Shrek, and Star Wars. The lower part featured one of 29 rhetorical devices like procatalepsis.
Our Pope of Rhetoric, Arthur, presented the first challenge. The six movie teams had thirty minutes to create a 3-minute trailer for their movie with each team member using his or her specific rhetorical device.
The result was an epizeuxis – laughter, laughter, laughter!
Night of the Wolf
We wondered why we never give toasts at Toastmasters. That's why our dinner included a tasty toast competition. Francisco, Girish, Tobias and John made it through their table elections. All toasts were amazingly emotional and humorous. John's impromptu poem won.
After our mountain-style dinner night covered our senses – the Night of the Wolf. Evgueni magically moderated the popular French game of night and day, of villagers and wolves, of intrigues, lies, life and death.
Ana survived. Applause.
The real night gave us a long hug. Good night.
Unscripted
The expectations were higher than those sleepy mountains surrounding us. Of course, John didn't disappoint us. He and his improv workshop rocked big time. He shared three tips of improv that we can apply to public speaking and life itself. Of the numerous exercises, the Yes, and exercise stood out. It became the running gag of the weekend.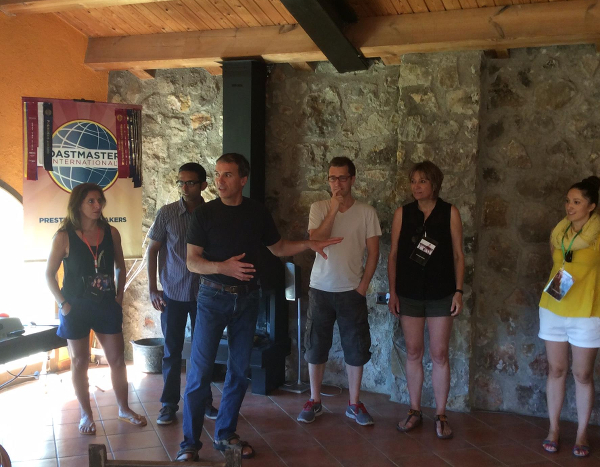 Groundhog Day
Did you watch Bill Murray in Groundhog Day? That was José's first question. José shared with us some insights of agile coaching. Specifically, he made us stick a post-it to the wall – in teams and as high as we could and backwards. First round chaotic, second round with a vision where we wanted to go. Simple exercise, powerful message. We took it home.
All the World's a Stage
Tess, our psychologist, helped us turn into actors. She grouped us in teams of two. Each one told the other person an emotional event of the recent past. Then we had to relive the other person's experience. Three of us acted it out in front of the big group. It was amazing to see how Shakespeare was right.
The RJ Disaster
Evgueni continued with the inspiration from Shakespeare. He said that, Romeo and Juliet ended up in a disaster because of a lack of rules of communiaction. Evgueni shared three rules of better communication. When Liliana and I crossed the room with nothing but a small rubber ball between our foreheads, we realized how important it is to talk about next steps.
Of Topics and Challenges
Table Topics time with RHETORIC! Alba, who's not a Toastmaster yet, proved that anyone can give meaningful impromptu speeches with the public speaking game.
Haiku and Haiga
Mireia invited us to the world of arts – lyrically and visually. Five teams had to come up with a Haiku. A Haiku is a kind of Japanese poem, which consists of three lines – 5 syllables, 7 syllables, 5 syllables. Once we had the poem we had to create a corresponding painting – a Haiga. Wow, that was creative!
Seriously Funny
Humor is pattern. Girish, our Bollywood-style stand-up star, proved it. He analyzed humor and made us use humor. We experienced those patters. Very powerful teaching! In my team, Catherine used the putting-things-in-a-different-context-approach. This one breaks with the expected, hence causes laughter. She said that, When I was about to give my first speech at Toastmasters, I was more scared than a tomato in the slaughterhouse. Our team couldn't stop slaughing.
Dr. Jekyll and Mr. Smeagol
Our pathos guru Tobias, finally, let us experience an acting technique. He made us use our own emotions and apply them to other situations in life. A simple tool, a powerful tool.
Leader of the future
The final act was a group act. We went back into our movie teams and created short theater plays about The Leader of the Future.  All the inspiration canalized into seven minutes of infotainment. Another epizeuxis: hilarious, hilarious, hilarious!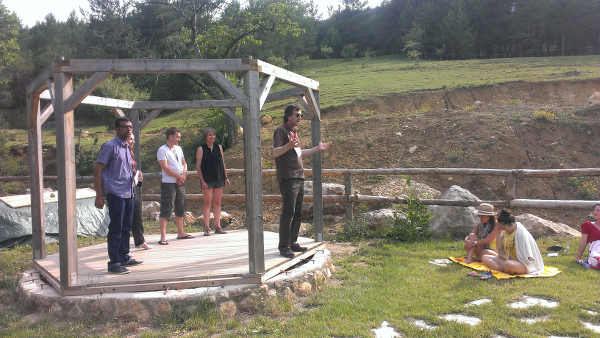 All those who danced with the angels on that weekend in June 2015 will never forget that dance. It was truly amazing. All you amazing participants, thank you for your passion to grow.