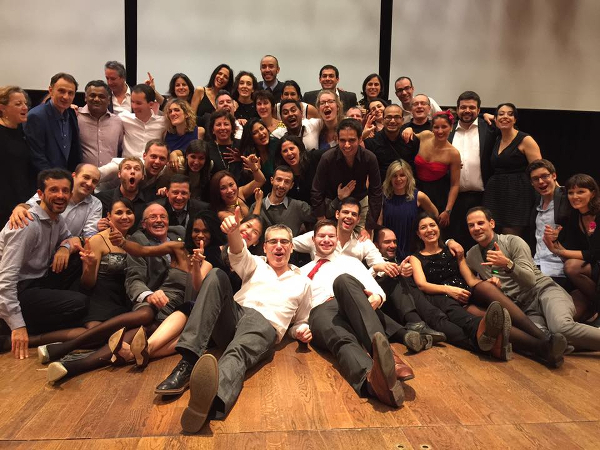 The motto of our Toastmasters District 59 Autumn Conference was "Building Bridges in Amsterdam". And, yes, we built bridges. Many bridges. From 13-15 November 2015 we built bridges of insights. Bridges of laughter. Bridges of friendship. Thank you, my Dutch friends, for another conference milestone in D59 history.
Here are some of the content kings I scribbled down during the weekend.
Keynote speaker Jessie Gordon, International coach, motivational speaker and author
Quotes
Communication is 24/7.
Communication is a pleasure machine.
Challenge your space to get more information.
Every time we feel not understood, we go a bit insane.
Everything in life is about improvising.
Communication is all about giving and receiving. […] When you offer something, you have to make sure they got it.
We play one string only. Do we play all four strings when we play the violin of communication?
Begin to live you!
Take bigger risks when you feel safe! 
Focus on three dimensions: I, We, It.
As communicator you must seduce your audience to see your point of view.
Communication is not a luxury; it's an essence of quality of life.
Stay in a state of I-don't-know. Stay curious. 
Paraphrases
Sender-focused communication = Damage repair + Less trust
Change your thoughts from, What do they think of me?, to, What do I think of them?
Hold the silence for two reasons. One, to give your audience time to process the information. Two, to strategize your thoughts.
Communication is a multitude of truths. Yet, we constantly want to agree on a truth.
As a communicator you're an athlete (energy), a detective (evaluation) and a scientist (experiment).
Workshop "Light your fire!" by Ricardo Cabete
Overcoming fear feels better than winning.
Find your [fire] trigger!
Fears are good for you, but not the limiting ones.
Workshop "Stimulating conversations" by Jeffer London
Conversations shape ideas. Ideas shape the world.
Through conversations you can change the world.
Workshop "Bridge to the leadership of the 21st century" by Ana Gonzáles
How can I lead someone, if I don't know how to lead myself?
Leadership starts with self-leadership.
How do I make others feel?
When you think about characteristics of a great leader, do you think about the height, the color of the eyes or emotional intelligence?
A bad leader makes you feel small like a mouse. A good leader makes you feel big like a lion. (Paraphrased)
Workshop "Effective Evaluations" by Alex De Jong
When the tide rises all the ships come in. (English proverb)
Great feedback is like great deodorant.
No (or negative) feedback is like bad body odor. We stay away from it.
MC O'FEED – Seven lessons learned as a corporate trainer. A summary of my session at the Professional Trainers' Group
M – usic. Use music in your trainings. Before. During. After. Add emotion to your trainings. Use Spotify playlists to manage your time/timings.
C – amera. Don't use camera in your (public speaking) training. Camera creates negative vibes. Aristotle didn't have a camera either.
O – riginality. Don't be a copycat. We cannot reinvent the wheel, but we can repaint it. Example: CSI.
F – eedback. Only positive (PLUS) and constructive (PLUSPLUS) feedback. Erase all negative comments.
E – xample. As a trainer, you can only ask people to do comfort zone-expanding tasks, if you do it yourself. Sing, dance, shout, scream – that's your permission to ask them for crazy stuff.
E – nergy. You're down? It's show time. You're tired? It's show time. You're sick? It's show time. Always be energetic!
D – oing. Don't put stuff in; pull stuff out! In the age of Wikipedia, theory is available anywhere, anytime. Instead of telling them, make them do things, and they'll learn and love what you do.