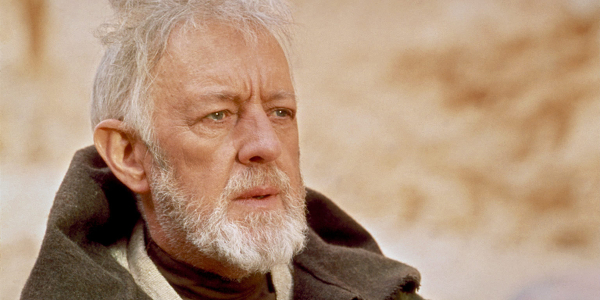 The world is waiting for one day. On December 18 2015 the Force awakens. Once again we'll be immersed in the eternal fight of good against evil. Once again we'll follow a hero's journey. Once again we'll find ourselves intrigued by the presence of a mentor. And once again we'll be missing the original cast. Who could ever replace the immortal Obi-Wan Kenobi?
Obi-Wan is one of the greatest mentors in cinematographic history. The question is: Are you a mentor? Are you a great mentor? Are you like Obi-Wan Kenobi?
The other day in Geneva, I made my training participants prepare 15-minute power workshops. These power workshops have proven to be super effective fountains of content generation. I love them. One of the participants chose the topic mentoring as a vital element of leadership skills.
In three groups of two, and in just 15 minutes, we generated a list of characteristics of a great mentor. I grouped them in two subgroups – what you give and who you are.
What you give
Belief
Obi-Wan believes in the young Skywalker. Believe in your mentees!
Presence
In critical moments Obi-Wan is there for Luke. A great mentor is present.
Conversations
Obi-Wan inspires Luke with personal stories. A great mentor shares his experiences.
Listening
Listening takes time. Obi-Wan listens to the young Luke.
Help
A great mentor doesn't drive the car for you. He'll tell you not to fall asleep while you're driving. Obi-Wan helps Luke by letting himself get killed by Darth Vader. A great mentor helps his mentee through empowerment.
Advice
Again, you don't do it for your mentee. But you share tips and tricks. Just like Obi-Wan does.
Knowledge
Obi-Wan knows everything about Jedi and the force. He fought in the Clone Wars. His knowledge base is huge. Don't be a mentor, if you don't know your turf.
Challenges
We don't grow, if we take the easy path. The easy path leads to standard, not to the force of the Jedi. Great mentors like Obi-Wan challenge their mentees with tasks that seem impossible at first sight.
Feedback
Always positive, always constructive – negative feedback is poison.
Motivation
Great mentors like Obi-Wan are leaders by example. They are in the first row of action. That motivates!
Love
Obi-Wan loves Luke like a father. Fall in – platonic – love with your mentees!
Protection
Great mentors like Obi-Wan protect their mentees even when they're gone.
Fun
Apart from accompanying their mentees on the painful pilgrimage of personal growth, a great mentor also knows how to create great positive vibes. Great mentors are fun to be with.
Who you are
Sincerity
Positive yes, constructive yes, but no sugarcoating. Be sincere like Obi-Wan; never be fake!
Openness
Mentorship is not House of Cards. A great mentor is open, transparent, vulnerable. This is what is truly inspiring for the mentee.
Respect
Obi-Wan has due regard for Luke's feelings, his wishes and dreams. Great mentors are respectful people.
Humbleness
An arrogant mentor? That's another mother of oxymorons.
Responsibility
A great mentor like Obi-Wan is responsible for his actions. It's never anyone else's fault.
Consistency
Great mentors like Obi-Wan walk the talk. They are consistent in their actions.
Selflessness
Obi-Wan Kenobi doesn't help Luke for his own benefit. He believes in the greater good. Great mentors believe in the greater good. It can be the defeat of an evil empire or the quality of a Toastmasters club. It can be a better corporate culture or a more enriching life for your children. Great mentorship loves selflessness.
Great leaders are great mentors. Obi-Wan Kenobi is a great mentor. Are you like Obi-Wan Kenobi?
Fantastic, then find and talk to a mentee today!