In October 2010 I fell in love. I fell deeply in love. I fell deeply in love with… the Artchimboldi. I've led corporate trainings in messy office spaces, gray meeting rooms, standard five-star hotel meeting rooms in the basement without daylight. I've experienced the whole range of training venues – from feng shui heaven to energy sucking hell. And I've learned one thing: the venue has a value.
When you plan your trainings, you have three options.
Option 1: In-house trainings
Apparently, doing a training in-house is the cheapest option. But is it the most effective option? Can employees really switch off when they're in their usual working environment? In my experience, they never really switch off.
I often hear stuff like, Florian, one thing. At 3 pm I have an important meeting. I'll be gone for half an hour. I hope that's fine with you. 
Of course, it's not OK at all, but I usually respond to them: A problem that cannot be solved is already solved.
Apart from the reduced focus, corporate meeting rooms normally are not made for trainings. The huge, heavy table cannot be moved. The projector is located right on the table; where I want to move is the beam.  Cables and mess everywhere. Not cool.
For me, an in-house training is the worst option.
Option 2: Trainings in hotels
Hotel beats in-house. Yes, it means extra budget. But people are ripped off their corporate environment, and that's a big plus!
The downside is that, in many hotels, the meeting rooms are located in the basement. Daylight is a rare good in hotels – even in five-stars. Daylight is an absolute must. Daylight is energy.
When my clients decide to go for the hotel option, I tell them: Make sure there's daylight, and make sure we can be noisy, very noisy, extremely noisy!
Option 3: Artchimboldi & Co.
And then, there's the third and, for me, best option. The Artchimboldi is my favorite venue for corporate trainings. It's a modernist apartment in the heart of Barcelona that Anna, the owner, transformed into an event venue. Product presentations, fashion photo shootings, live cooking or corporate trainings – the Artchimboldi is flexible, creative and – above all – inspiring. My training participants dive into a completely different world, an inspiring world. Not to talk about the incredible food that is prepared directly at the venue.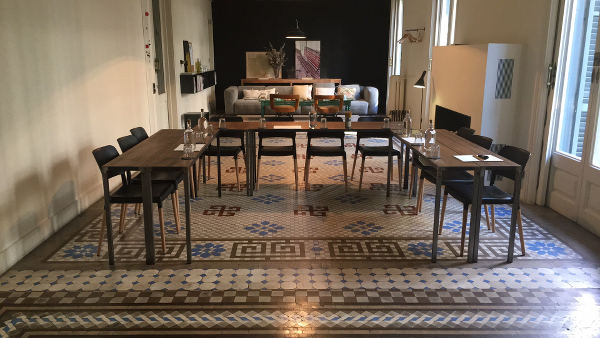 Artchimboldi, Barcelona
The budget is slightly higher than in 4* or 5* hotels. Yet, all my clients I brought there have repeated to use the Artchimboldi in other occasions.
Good news is, venues like the Artchimboldi are everywhere. Berlin, London, Paris – find that needle of inspiration in the haystack of standard. The impact such a venue has on your training participants justifies any reasonable increase in budget.
Once you've experienced a corporate training at a place like the Artchimboldi, you understand and appreciate the value of the venue.