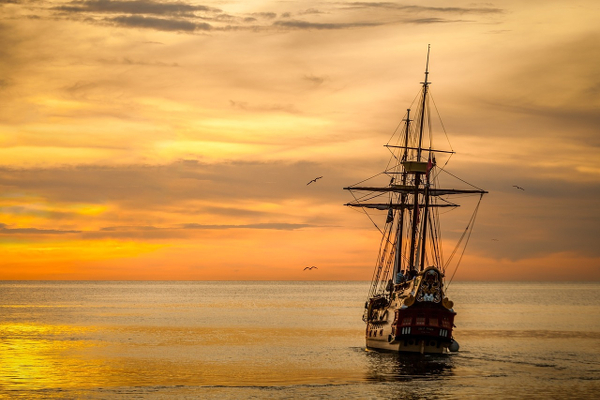 A speech without an objective is like a ship without a harbor. When it comes to persuasion, the most effective objective is a concrete action by the audience. Persuasion loves action. Persuasion needs action. Persuasion needs action like the ship needs the harbor.
In my post They will never save the world I shared insights with you about the power of a small, simple, specific and symbolic action an audience takes at the end of your speech. Since it seems so challenging for people to come up with a call to action (CYA) that actually works, below you find eleven examples of calls to action I've used myself or that I've experienced in other speeches. Take them as an inspiration for your own CTAs.
A bunch of flowers
Take out one buck, put it in this box and help me buy a bunch of flowers for our team of super supporters who, for two years, worked so hard for us behind the scenes .
The call
Underneath your chair you'll find my cell phone number. Call me whenever you feel like you're ready.
Less salt in your life
Now pick up this Maggi cube; unwrap this Maggi cube, break this Maggi cube into two halfs, and… eat one half.
Better relationships
Right now – take out your phone, call a person dear to you and tell that person that you love him or her!
The ritual
After my speech, come here and pick up one of the bottles of water on this table. Fill up a glass, look a colleague deep into his or her eyes and cheer to a fantastic year 2017. Because the year 2017 will be a full glass!
A meaningful life
On your table you find a small yellow piece of paper. On that piece of paper, write down that one tiny little first step you will take tonight on your path to making your life more meaningful.
Do Yoga!
Your Yoga journey begins right now. Stand up and stretch yourself like this… [Demo]
The app
Take your phone and download this app – now!
Self motivation
I count till three. On three you shout as loud as possible: I can do it!
Fighting fears
Inflate the ballon in front of you and let it burst like your fears.
Your vision
Now that you see the vision of your professional life in your mind, picture it as a metaphorical object. Take a piece of paper and draw that object! Take that drawing home with you. When you doubt your vision in the future, look at your drawing.
If your persuasive speech doesn't ask for such an action, it's not a persuasive speech. As simple as that! Build that harbor for your own ship; you'll be astonished to feel the power you have as a speaker.