It's always the same. It happens every single time. In every single first meeting with any single new potential client, here we go… THE question: "So… [followed by a long and tension-building pause, which is built-in on purpose – that's why they call it a dramatic pause!] … Why should we work with you?"
You know what? I'm tired of that darn question. Very tired. And I know, it is a valid question. Don't we all want to make sure that we don't end up working with lame ducks? I totally understand that question. But at the same time, I'm so tired of it.
That's why I will save you some time. I will give you a number of good reasons, why you should never work with me. Eight reasons to be exact.
1 No Camera
Reason number one, why you should never work with me is: I hate cameras in training! I always say to my training participants, Aristotle didn't have a camera either! Who loves to hear their voice? I haven't met anyone. And that is only the start – a destructive environment. But worse? You judge yourself when you see yourself on video. That is absolutely useless. Self-assessment has no value. In public speaking, the only thing that matters is what others see, feel, perceive. So, here we go, if you like the camera, I'm out already.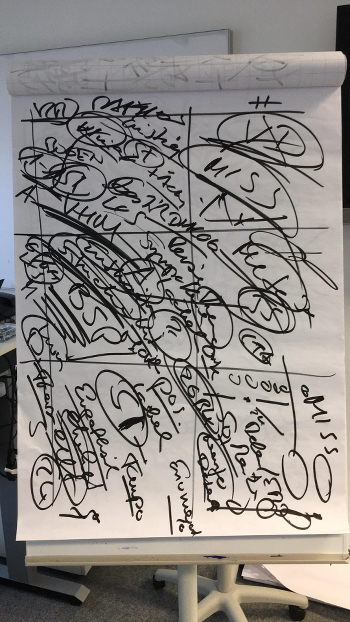 2 Handouts? No Way!
Let's move on to reason number two, why you should definitely never work with me. People love to have handouts. They love to have some material they can rely on. Less work for them. Screw it! Welcome to the 21st century. My trainings are paperless. You'll receive links and PDFs afterwards. But no paper in my trainings. If you love handouts, I'm out again.
3 Music Was My First Love
Reason number 3. If you don't like music, my trainings are your personal nemesis. I play music all the time. Music is emotion; music is feeling; music is everything. When I wake up in the morning, Spotify is the first thing. If you don't like music, you should definitely never work with me.
4 My Handwriting Sucks
The fourth downer is obvious. Just take a look at the image. My handwriting is worse than modern art. Well, actually a lady had one of the flipcharts signed by me the other day. She said: This IS art. I loved that. But then again, as a corporate trainer, I'm supposed to draw blue clouds and put neatly written red words in there. Not my cake. Again, I'm out.
5 I'm a Pit Bull Terrier
But it's getting worse. When it comes to the fifth reason, why you should never work with me, a Pit Bull Terrier comes to my mind. When someone doesn't want to talk or sing or scream in a training, I never give up until it happens. Very, very uncomfortable moments can occur and have occurred in the past. But just like a Pit Bull Terrier, I will not give up. If you consider letting go an option, I'm not your trainer.
6 Public Speaking is Therapy
Once I received a phone call from an HR lady. I had just done my first training at that company. She said, Florian, all good, the feedback was great. But there was a comment from one of the participants. She said that it couldn't be that this was therapy. I paused. Then, with all the determination of the world in my voice, I answered: Public speaking IS therapy. And if it is not therapy, you can do better. If you think that tears are out of place in trainings, don't hire me.
7 No Growth on Clean Grounds
Reason number seven. Personal growth goes hand in hand with suffering. Suffering doesn't grow on clean grounds. If you don't like the humor of Ricky Gervais, don't even contact me.
8 In Vino Veritas
Finally, the eighth reason why you should never work with me: wine is great! Especially when it comes to public speaking. I do a lot of training sessions in Spain. There, during lunch breaks, a glass of wine is never wrong. I love that! It creates such a different, relaxed atmosphere. I love to have my glass of red wine during lunch breaks. If you have a problem with that, don't hire me!
So here you have it. If you love camera, handouts, silence, handwriting, weakness, superficiality, clean grounds, and sparkling water mixed with apple juice, I am SO NOT YOUR TRAINER!
Next time I hear that darn question I will turn it around and say what I've just written. I'll let you know how it went.