On May 18-19 2017, I attended the spectacular spring conference of District 95 of Toastmasters International in Berlin. We were more than 450 public speaking junkies from more than 17 countries. What a laugh! What learning! What goosebumps! Once again I felt the reason why I love this organization so much. One of the many highlights was the speech evaluation contest.
The target speaker gave a great speech about the mask we carry to hide our real me. As usual I also took notes during his speech: things to improve, +, and things he could've done even better, ++.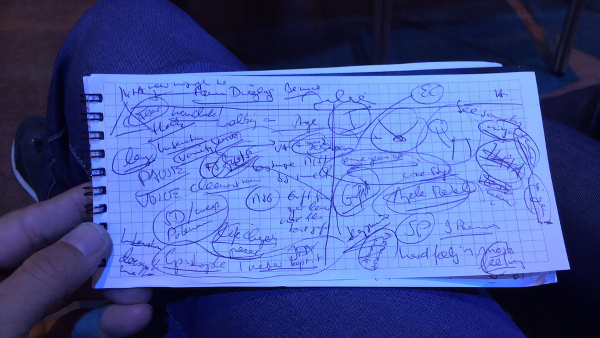 After a five-minute break the first out of six evaluators entered the stage. All of them gave their 3-minute speech evaluation. They all did a great job. It must have been a tough job for the judges to choose the top three evaluators.
The evaluators addressed many aspects of what I had written down in my little booklet. But – when all of them had done their work, I was wondering, Why didn't anyone talk about his gestures? About 35% of his talk the speaker used "closed" gestures. He kept his hands together in front of his belly. Closed body language translates into anxiety and fear; open body language translates into confidence and charisma.
While I was sitting there in the darkness of the crowd, I thought to myself, How would I have addressed this issue? What would I have said?
I have to acknowledge that it was a bit like Table Topics in our Toastmasters meetings. You always know the answer when you are back in your seat. And yet, I recalled what I often say in my own public speaking trainings. There, after a typical closed body language speech, I ask the speaker: Have you ever touched an electric fence? I explain myself. You know, that electric fence that keeps the cattle on their field?
Most of the times, especially with the guys, I see a nod. I continue. Now imagine one of your hands were that electric fence. Would you touch it? … Do not touch your hands!
Given its unexpected nature, this specific piece of feedback often harvests a good laugh. But apart from that, have you ever interacted with a speaker during your evaluation? I do it more and more and I would have certainly done that during that evaluation contest in Berlin.
When we give our evaluations at Toastmasters, some of us talk to the speaker, some of us only talk about the speaker. I go beyond that. I even interact with the speaker. Why not? Has interaction ever been bad?
Try it out! Ask the speaker closed questions; interact with the speaker, become a team of trust. I've learned that it will boost the quality of your evaluations even more.
(By the way, I'm not saying that you cannot touch that electric fence. But only touch it when it serves an illustrative purpose like showing how you nip on an espresso. In that case those gestures won't electrocute you; they will electrify your audience.)