My fellow public speaker, business partner and good friend John Zimmer and I are extremely proud and honored. After more than six years of putting our brains and hearts into Rhetoric – The Public Speaking Game, Toastmasters International decided to publish an editorial article about the game in their monthly magazine.
We'd like to say special thanks to Shannon Dewey who did such a great job in bringing this article to life. You can read the online version here. Particularly, I love the interview part, which I copied below.
To all our RHETORIC fans, let me tell you this: You have not the slightest idea of how much John and I appreciate all your uplifting comments and constructive feedback to make the game better and better.
And now? Now it's your turn to speak.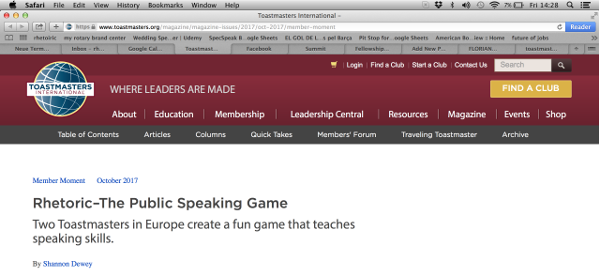 How did you meet?
Florian: In spring 2010, John and I met at a Toastmasters division conference in Porto, Portugal. He was the keynote speaker; I was one of the International Speech contestants. What I did not know was that he was also a competitor in his division that year. The competition was on!
John: (laughing) In the end, we each won our division, but neither of us placed at district. But we came away with something better: the foundation of what has become a great friendship and partnership. Today, besides Toastmasters, we work together with clients, co-author books and products, and enjoy more than a few beers together.
How can a game help those who fear public ­speaking?
Florian: Before joining Toastmasters, my heart wasn't pounding when I had to speak in public; it was a galloping herd of 1,000 wild horses. Playing Rhetoric can help you tame those horses. Yes, you are giving speeches, but you are also playing a game with others. Gamification turns fear into fun.
John: The nerves never go away entirely. When you play ­Rhetoric, there is that same adrenaline rush every time it is your turn. But instead of days or weeks, there are only minutes between one speech and the next. We have seen incredible progress over the course of a single game. People who were nervous at the start are jumping onto the stage by the end of the game. They don't even realize that they are sharpening their speaking skills.
Since you live in different countries, how did you ­collaborate on this project?
Florian: Usually when we work on specific issues, we use Google Docs. Next to our computer screens we place our smart phones and use the video function of Whatsapp. We see each other and work simultaneously on specific challenges. Once I edited a sentence that John was editing at the same time. He uttered those immortal words: "Get the cursor out of my face!"
John: We come from different countries, have different backgrounds and have different personalities. Just compare us onstage! But that is our strength. When we combine our different ­qualities, cool things happen. If we were a car, Florian would be the gas pedal and I would be the brake. Without the gas, you won't move; without the brake, you are going to crash. With both, you can go anywhere.
Did you test the game on family and friends?
Florian: Feedback is a cornerstone of Toastmasters' success. With the prototype, the board version and now the app, we have played with, and listened to, hundreds of people. Their feedback has been invaluable.
What future developments can we expect from Rhetoric?
John: Right now, the app can be played in six languages: ­English; Spanish; French; Russian; German; and Catalan. We plan to add more such as Mandarin, Italian and Portuguese. For themes, we already have Classic and Family (suitable for all ages). Future themes will include Business and Comedy. And we are always open to suggestions, so get in touch!