What do Carlota, Timo, Tony and Leonidas have in common? All four of them are charismatic leaders. But wait a minute, who the hell are Carlota, Timo and Tony?
Richard Branson? Yes.
Jeff Bezos? Yes.
Oprah Winfrey? Definitely a big yes.
But – when I think of great charismatic leaders, I don't have to look so far. Three of my heroes of charismatic leadership have been my friends for years. And they live and work in my direct surrounding. In Barcelona.
Carlota Pi is the co-founder and Executive President of holaluz.com. The Holaluz guys are green natives; they are green energy rebels. Together with her co-founders Oriol and Ferran, Carlota has built, in less then a decade, the preferable future of energy in Spain. Carlota burns and sparks and sweats and loves.
Timo Buetefisch is the founder and CEO of cooltra.com. Their mission is to be the leader of two-wheel mobility in urban areas. Their top project is a fleet of sharable electric scooters. Today, the Cooltra Group spans cities across Europe and has more than 600 employees. Timo burns and sparks and sweats and loves.
Tony Anagor is the owner of LifestyleDMC, a corporate event specialist. But Tony is also a coach, a teacher at IESE Business School and a future Tai Chi Master. Tony is humanity on two legs. And Tony burns and sparks and sweats and loves.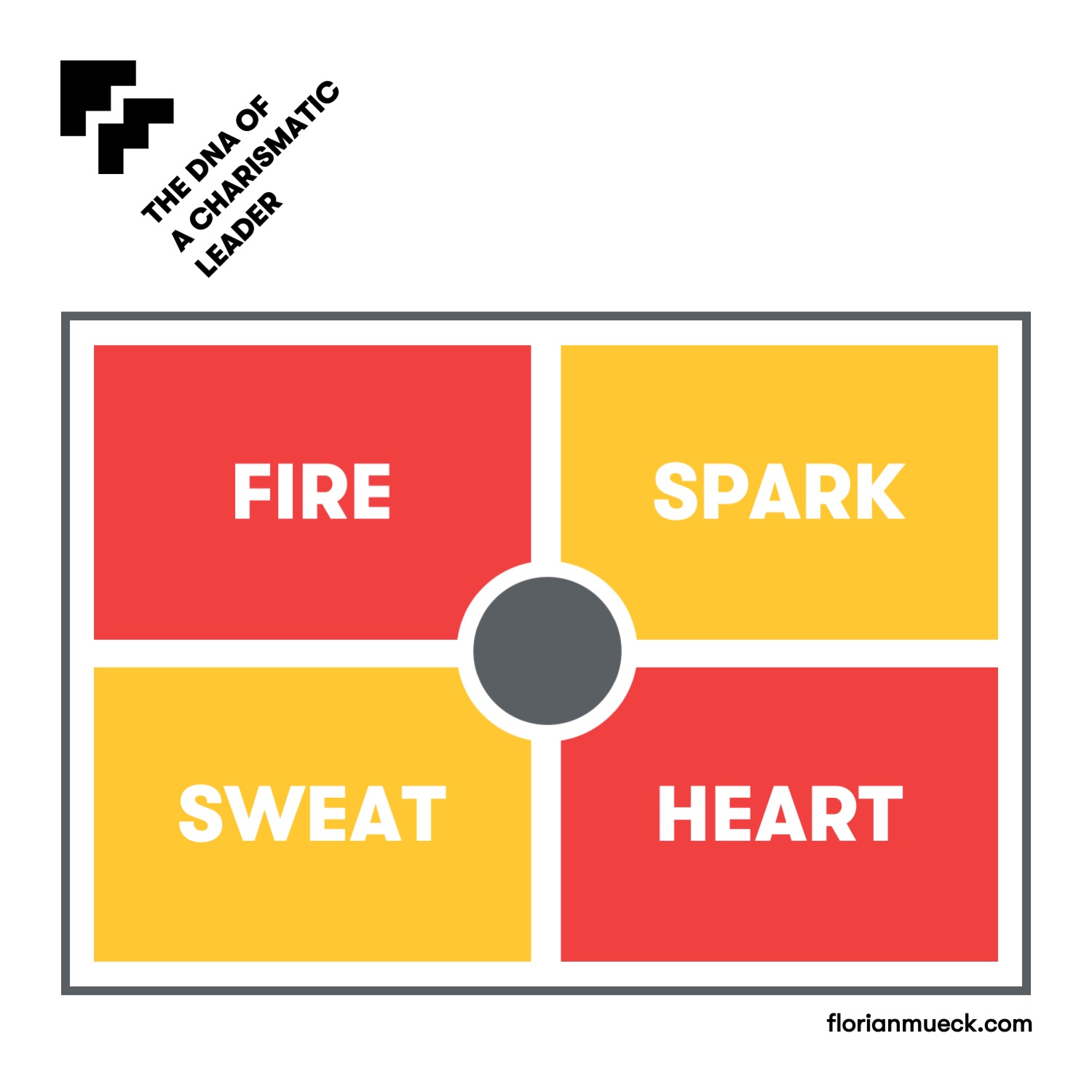 As a public speaking coach I have worked with thousands of people from Munich to Miami. Among them, hundreds of leaders. If you asked me, Florian, what's the DNA of a charismatic leader?, I would tell you: You find the answer in Richard, Jeff, Oprah, Carlota, Timo, Tony, and Leonidas. 
FIRE
Charismatic leaders burn for their product, their brand, their purpose.
SPARK
Charismatic leaders spark positive energy. Like Ralph W. Emerson said, "Nothing great was ever achieved without enthusiasm."
SWEAT
Charismatic leaders sweat more than anyone else in their team. First on the battlefield, last on the battlefield – like Leonidas.
HEART
Charismatic leaders love their people.
Can you burn more? Spark more? Sweat and love more? Of course, you can. Charisma is a skill. All their lives, Carlota, Timo and Tony have worked hard on that skill. And so did Leonidas. Ask the Persians about it.