Public speaking can be creativity, energy, challenge, inspiration, fun. In 48 hours you change your perception about public speaking – completely. In just two days, you gain tons of self-confidence, take your persuasive communication skills to another level and, most importantly, you learn to be what you are in front of other people.
What can you expect?
On the first day, you step into a massively bigger comfort zone; you learn by doing; you learn a multitude of practical tips, techniques, and tools; you learn how to communicate with more persuasive power; you learn how to be a more memorable communicator.
You give two speeches, you receive extensive feedback – only positive and constructive – and you give feedback to your fellow trainees. You also receive a tool for building any speech or presentation in four simple steps and in no time. Additionally, Florian takes you by the hand and leads you up those 15 steps from wherever you are to your stage of glory. Self-confidence, transparency, first sentence, structure, rhetorical devices, quotes, stories, visual aids, eye contact, body language, voice, humor, passion, enthusiasm, smile – those 15 steps, inevitably, will boost your charisma on stage!
The morning session of day two is dedicated to business presentations with slides – again accompanied by extensive evaluation rounds. With all the knowledge of day one, you face a humongous challenge: how to add more POWER to your POINT?
The training climaxes in a creative and fun group exercise, "Sell a product". The constant positive and constructive feedback by all team members turns the seminar into an incubator of personal change. By the end of day two, public speaking has turned into creativity, energy, challenge, inspiration, and… fun. From fear to fun in 48 hours – a promise maintained.
Facts and Figures
Number of participants: 6 to 10
Venue: Organized by client
Duration: Two days, 18h
Languages: English, Spanish, German
Value: On request
For more information, click on the one-pagers below.
On-site Training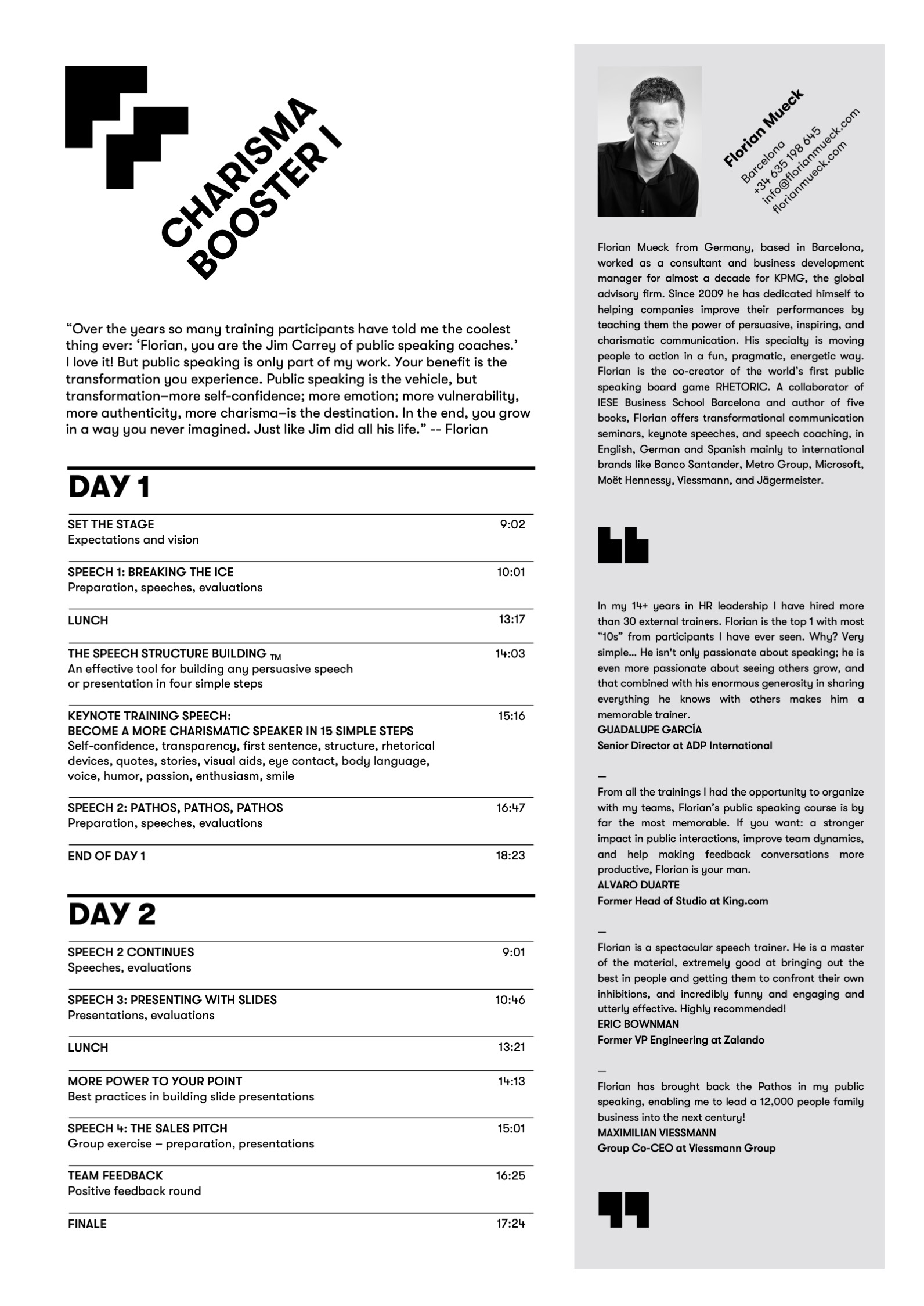 Online Training