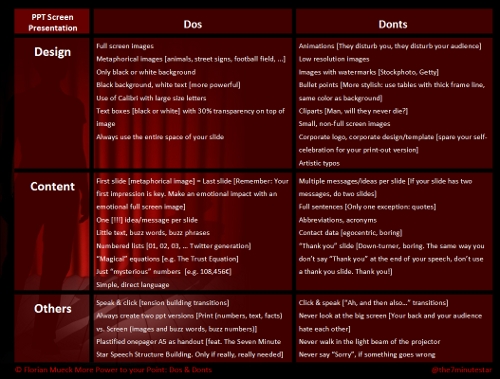 Click to download
Modena is a pictoresque city on the south side of the Po Valley, in the Province of Modena in the Emilia-Romagna region of Italy.
Modena is well known in culinary circles for its production of balsamic vinegar.
Modena is the hometown of Fabrizio Ferri.
But – who the heck is Fabrizio Ferri?
Fabrizio is a wonderful, poetic, philosophical person who works in the editing department of the Barcelona-based free software download giant Softonic.
After a seminar in June '11 he created a great Dos and Donts list – a quick check list for more powerful screen presentations – based on all my comments in that seminar.
I thank Fabrizio for his exceptional initiative and I share with you the extended version for your own reflection.
Here you can download the Dos & Donts check list in PDF…
So – next time you hear about Modena you will not only think of balsamic vinegar, but also of Dos and Donts in screen presentations… and of Fabrizio Ferri.