Since my very first test training in Barcelona in July 2009, I have only applied and accepted positive (PLUS) and constructive (PLUSPLUS) feedback. Inspiration had come from my years at Toastmasters International – an organization that truly lives the value of helping others grow.
In my trainings, participants gain more self-confidence and more self-esteem. They become more persuasive and inspiring communicators. They connect better with other human beings. In the end, they become better versions of themselves. The tool to make it happen is PLUS and – even more important – PLUSPLUS feedback.
From Portugal to Poland, from Munich to Miami – when we give feedback we face a huge challenge: our verbal language tends to be toxic. When something's good, we say, It's not bad. And when we wish something were here, we say, It's missing. Our everyday language is extremely negative. No wonder that we carry this negativity also into the world of feedback. But – negative feedback is poison for personal growth.
As a Toastmaster and corporate trainer since the year 2005, I learned that people do not grow one tenth of an inch with negative (MINUS) feedback. That's why, from the beginning, I promoted the philosophy of PLUSPLUS.
I have to admit though that, for years, I thought that PLUSPLUS was MINUS in happier colors. I was wrong. Today I know that there is a substantial difference between destructive MINUS feedback and constructive PLUSPLUS comments. The difference is… time. It's past versus future.
MINUS feedback tells the receiver that he or she did something wrong in the past. Stay where you are, you loser!
PLUSPLUS feedback offers the receiver advice on how to become better in the future. Move forward, you can do it!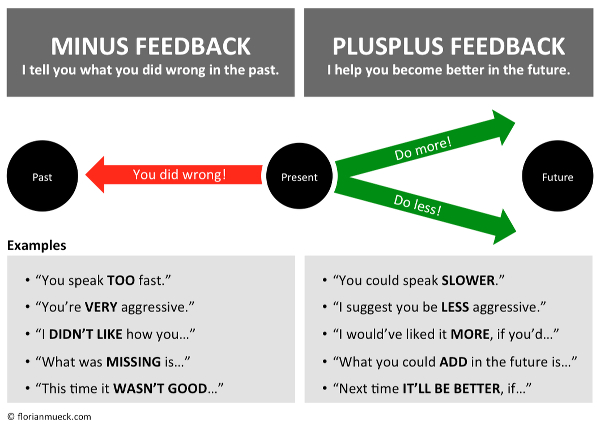 Once I received fantastic feedback from one of my training participants. She said that, I never had the feeling that I did something wrong. I always felt that I could do better next time! That's exactly what happens with PLUSPLUS feedback.
Helping instead of destroying – imagine your entire company shared this same attitude. Imagine all the people around you shared the same attitude. Imagine your partner… Okay, there are things we cannot change. But – YOU can change. You can make a difference and throw that darn MINUS over board. You'll be astonished to see what happens around you once you give PLUSPLUS feedback only.
I've seen thousands of people grow to unbelievable levels. You can help your people too.
Do it the PLUSPLUS way!